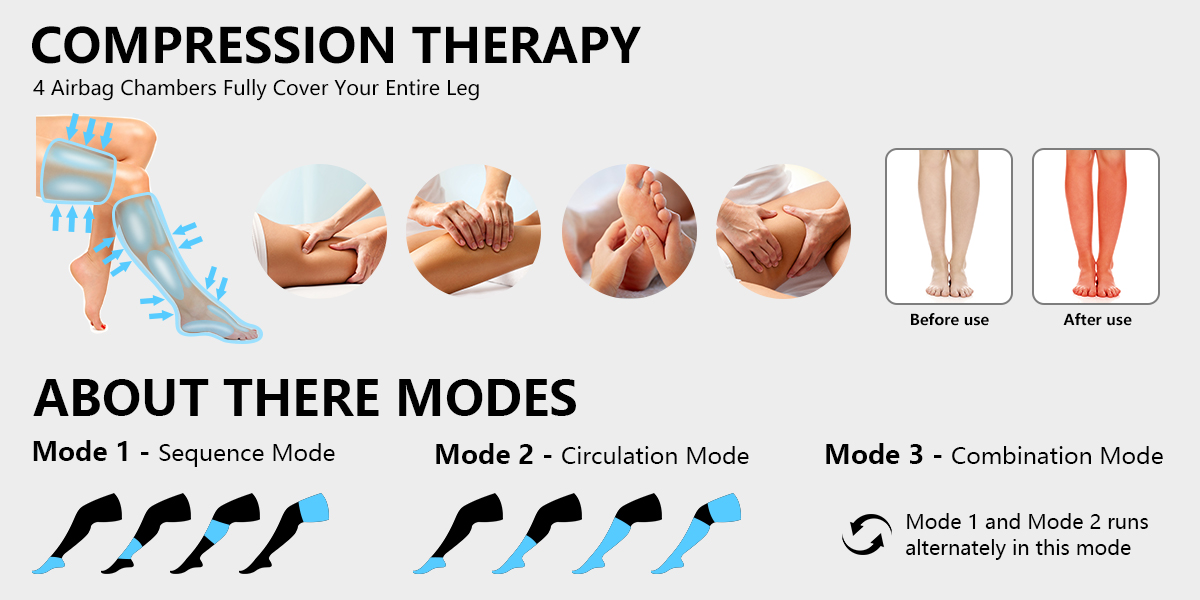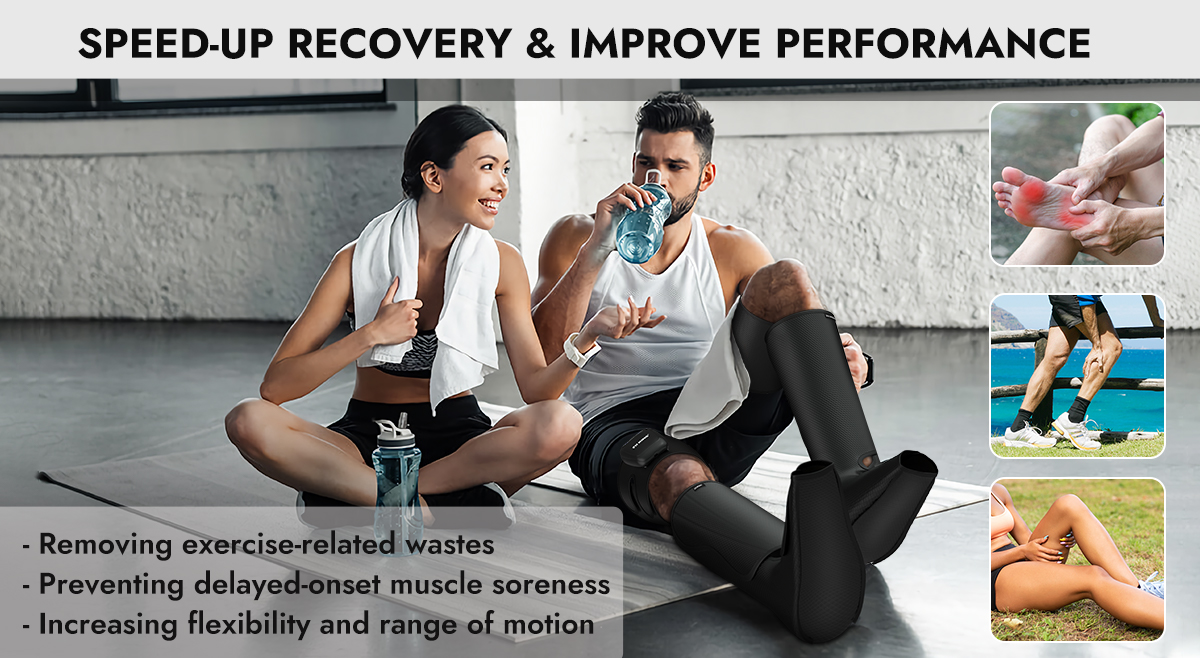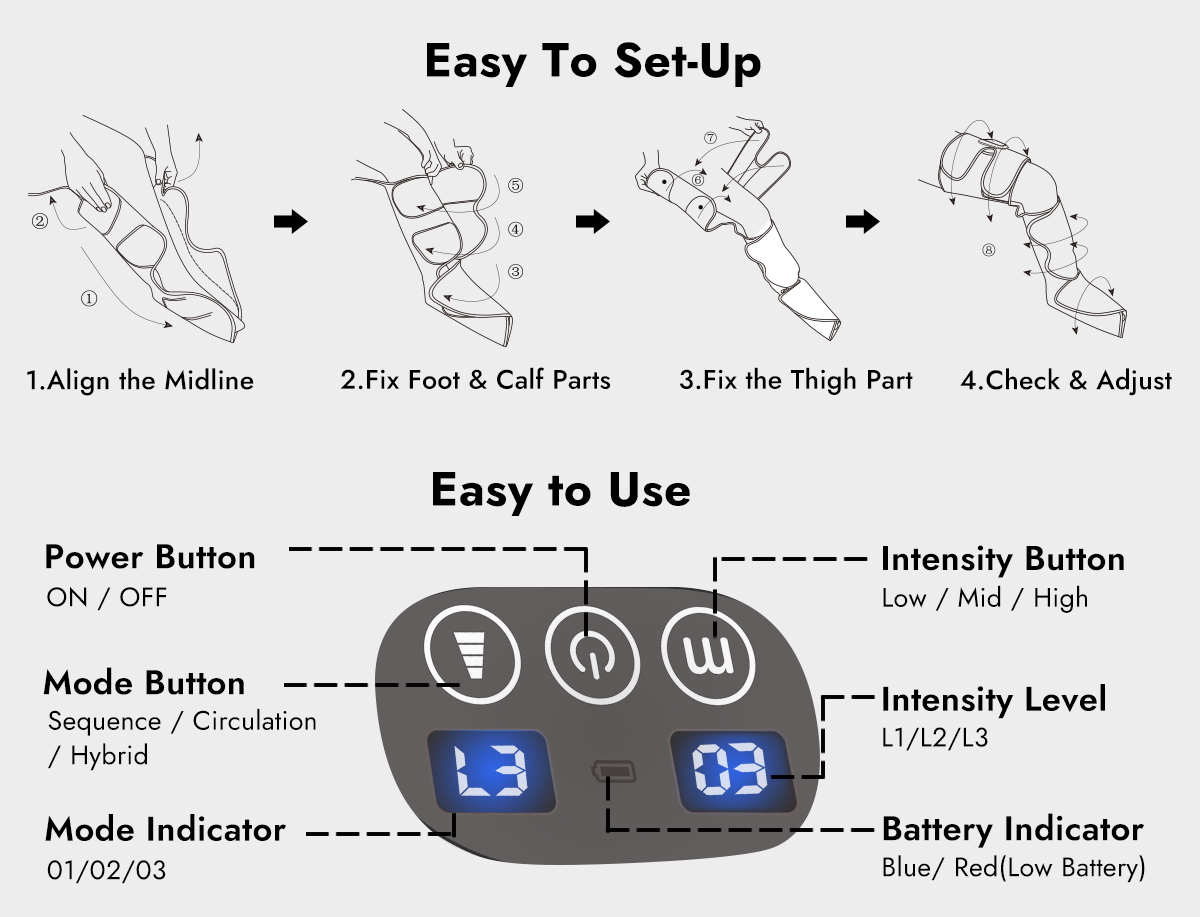 FIT KING air compression leg massager FT-060A is ALL-IN-ONE design, embedded with 4 chambers in each wrap, built-in rechargeable battery, no extra accessories is needed, each wrap has its own controller attached on top, so they can work independently, allows you to apply a massage anywhere anytime.
This massager applies professional massage from toe to thigh, covers the whole leg, helps with most of the leg issues, such as RLS, cramps, neuropathy. With 3 modes and 3 intensities, provide a variety of massage experiences, the benefits include relaxing muscles, reducing swelling and edema, easing stiffness and numbness, relieving fatigue and pain, effectively promoting circulation.
It also helps to stimulate tissue repair, speed up recovery and perform better, you can use it for pre-workout warm-up or post-exercise recovery, or relax the muscles after hiking, biking, running, etc.
Features of This Leg Massager
Massage Foot & Calf & Thigh - Whole Leg Circulation Promotion
This leg massager is with compression therapy, massage your feet, calf, and thigh, prevent clots and keep blood flowing, relax muscles, reduce stiffness and soreness, soothing relieve pain, effectively promote circulation, it also helps to stimulate tissue repair, speed up recovery and perform better.
Rechargeable & Cordless - Ultra-Portable - Feel Relief Aid Anywhere, Anytime
This is an ALL-IN-ONE leg massager, no extra accessories need to be connected, Rechargeable 2x3000 mAh battery is built inside the controller, totally free from an outlet and remove the bulk of a wired unit, it's rechargeable and each charge can support up to 200 mins of continuous using, if you use it 20~30 mins a day, it can last for almost 10 days! Besides, a carrying bag is included and the wraps can be recharged with standard USB-C, very convenient, you can use it at home, in the office, or on travel.
Powerful Functions - Meets Different Needs
Each leg wrap with 4 airbag chambers, fully cover your leg from toe to thigh, 3 massage modes and 3 massage intensities are available, offer flexible settings according to different needs. And you can use it for only one leg if needed since each wrap has its own controller.
Besides, the motor runs quiet, you can enjoy full relaxation and even fall asleep with it on.
Large & Adjustable Size - Fit Most Leg Sizes
This leg massager is an open design with velcro closures and can be fully expanded, easy to wrap around your leg and keep it in place, and allows you to adjust the size for different people use, also the adjustable size can guarantee the optimal massage experience for maximum comfort. Each wrap can work independently, share, and enjoy professional massage experience with family
Tips:
It will shut off automatically after 20 mins, you don't have to worry about forgetting to turn it off, save the battery.
You can restart to use it longer or end it earlier anytime by holding the power button.About Charging
1. How do I know when I need to recharge it?
- The battery indicator light will flash in red if it runs out of battery, the device will stop working and you need to recharge it.
2. Can I use the device while charging?
-Yes, the massager is battery powered but you can also use it while charging. But for better battery protection and longer it's service time, we do not recommend doing that often.
3. How long will it take to be fully charged?
- It may take 3~3.5 hours to fully charge.
Specifications
Pressure Range: 120~240 mmHg
Battery : 2x3000 mAh Li-ion Rechargeable Battery
AC/DC Adapter: AC 110~240V DC 5V3A
Air Chambers: 4 chambers
Working Noise: ≤ 65 db
Package Includes
2 x Massage Warps
1 x Power Adapter
1 x Charging Cable
1 x User Manual
1 x Quick-start guide
1 x Carrying bag