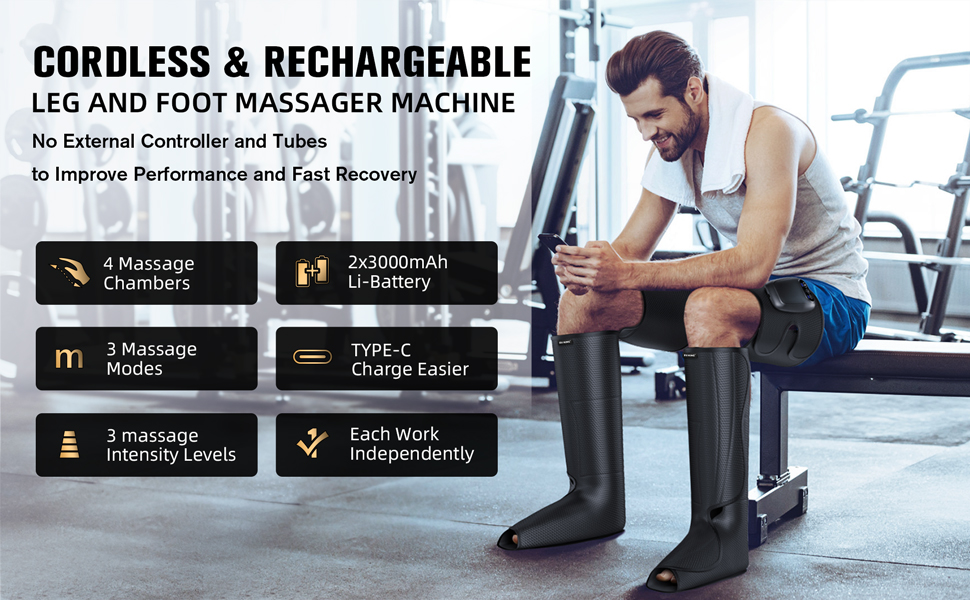 FIT KING, A PROFESSIONAL FAMILY HEALTH PLAN SOLUTION PROVIDER
The UPGRADED leg and foot massagers FT-060A are cordless and rechargeable, no external controller and tubes, much easier to wear up and operate. Can be used to relieve muscle pain and stiffness, promote better circulation, very helpful for recovery after intense physical exercise. You can use them at home, in the office or gym. EACH WRAP CAN BE USED SEPARATELY.
There are 4+4 massage chambers, simulate kneading and stroking of tissues, indicated for the relief of muscle aches and pains and increase in circulation from foot to calf and thigh, effectively help to accelerate healing and recovery, improve your daily performance and fast recovery after training or workout. It also can be used for the relief of edema, RLS, and pain. It would be an excellent gift for people of all ages on birthdays, mother's day, father's day, thanksgiving day, and Christmas.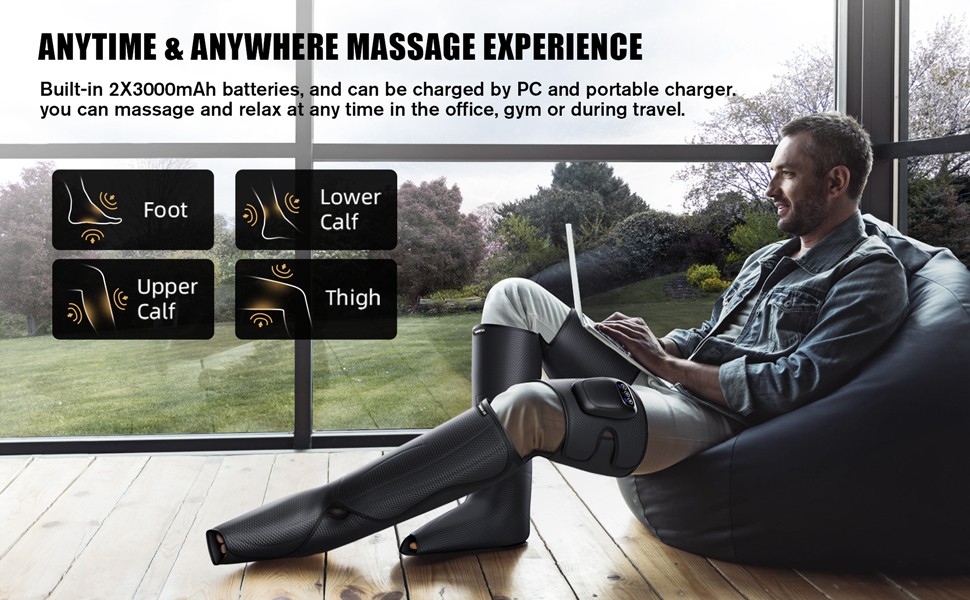 The CORDLESS leg and foot massagers are with Velcro closures, no external air hoses, much easier to wear up, adjust the size and operate. Your whole family can use one or both of them, massage from foot to thigh.
FIT KING Upgraded Cordless Foot and Leg Massager for Circulation, Pain Relief, and Recovery FT-060A
Features:
* Cordless and rechargeable can be used anytime anywhere;
* No external controller and tubes, much easier to wear up and operate;
* 4+4 massage chambers: foot, lower calf, upper calf, and thigh.
* 3 professional massage modes and levels with different massage techniques;
* Larger and adjustable Sizes via Velcro, max calf size is up to 24 inches;
* Charged with DC5V3A adapter or any other USB devices like phone adapter or power bank;
* Lightweight and storage bag included for easy carrying;
* Can be used while charging;
Specifications:
Charging Voltage: AC 100V~240V/ DC 5V 3A
Battery Capacity: 3000mAh x2
Please consult a doctor before use for :
Using pacemaker or other medical devices which are susceptible to electrical interference;
Being pregnant or at puerperium;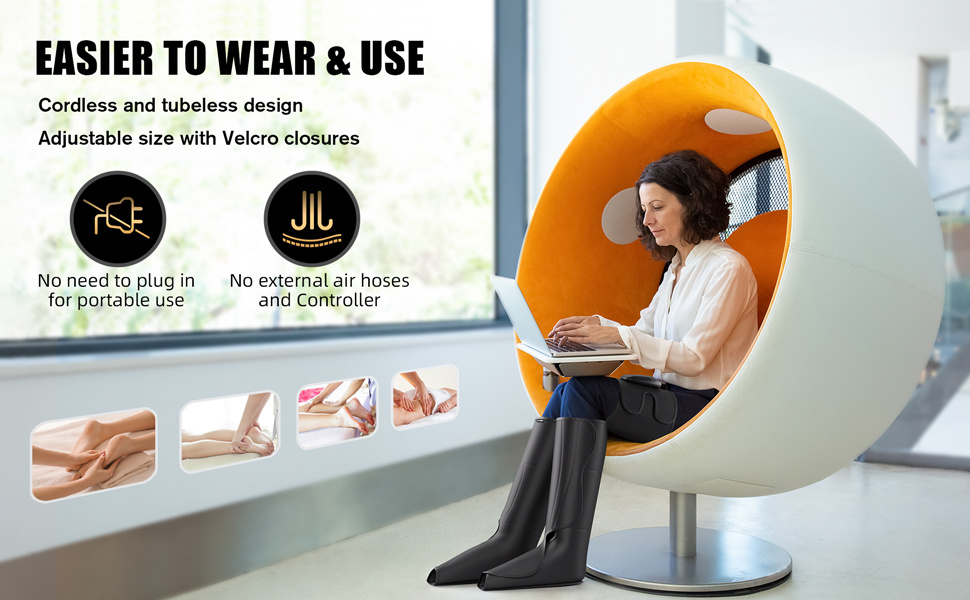 SPEED UP RECOVERY
Athletes may get injured from continual training and intense workout, this model will work on overworked muscles and reduce the lactic acid and soreness, effectively speed up the recovery, increase mobility and help to keep on your top performance or even break the limit.
RELIEVE FATIGUE & PAIN
If you wanna get a relaxing massage from long day of work, after a long trip, or just relax after exercise, this leg massager will wrap around your leg from toe to thigh, reduce stiffness and tiredness from muscles, bring you a whole relaxation, and will lead to better sleep
IMPROVE CIRCULATION
As growing older, we may suffer more on the leg due to poor circulation, such as RLS, varicose veins, swollen leg, etc. This massager compresses and squeezes your legs, increases the blood flow, use it once or twice a day will improve blood circulation, helps a lot for elderly people.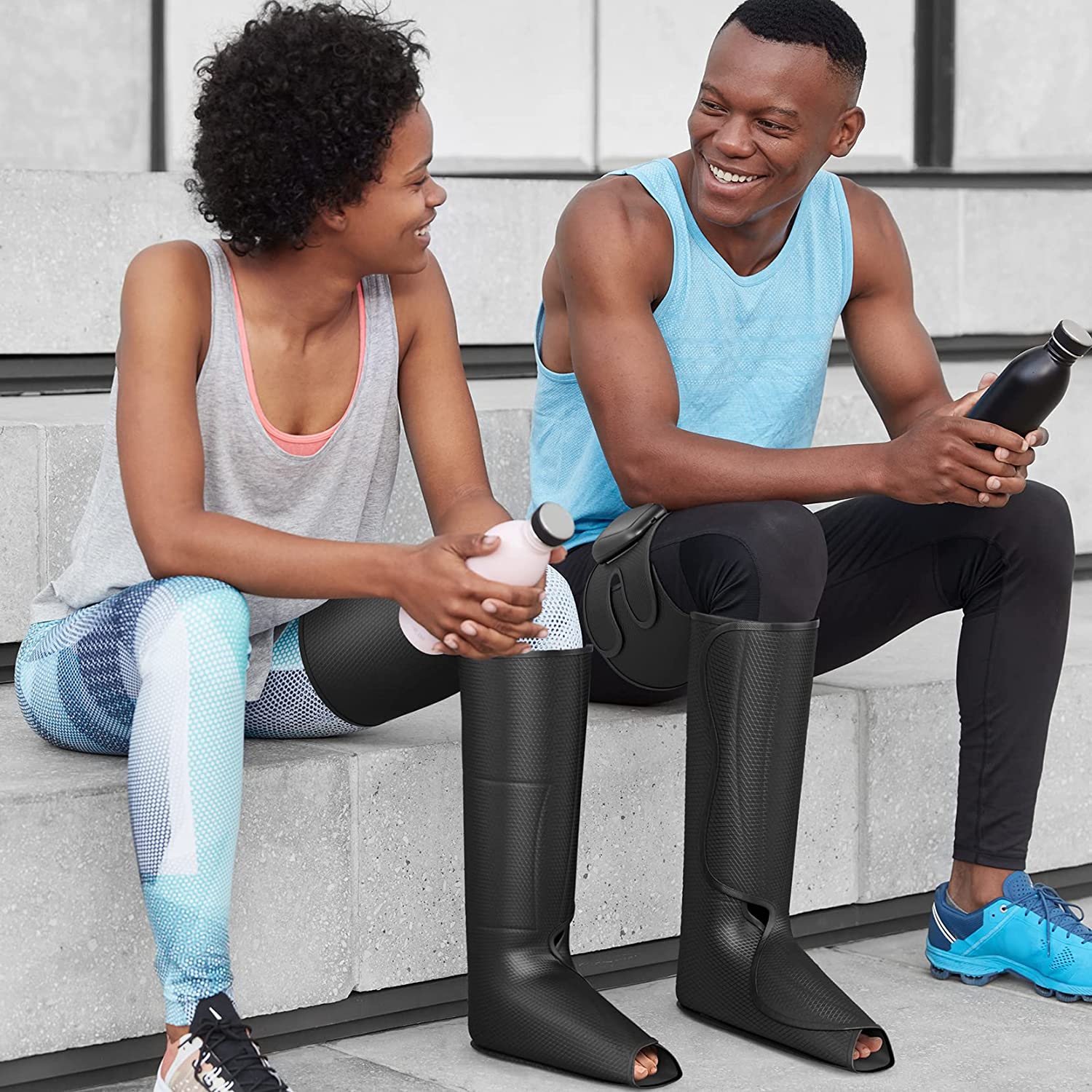 LARGER &ADJUSTABLE SIZE
Sizes of the foot and leg massagers are adjustable via Velcros, fit for your whole family. Each wrap can work independently, share and enjoy a professional massage experience with family.
10 DAYS+ ON 1 CHARGE
The left and right massagers are both equipped with 3000 mAh batteries. If it is used for 20 to 30 minutes per day as recommended, it can be used for more than 10 days on a single charge.
EASY & FAST CHARGE
You can charge the leg and foot massagers with the DC5V2A charger, or use your type-C charging cord and connect with any USB device or portable charger. You can take them anywhere.
BETTER GIFT IDEA
Well-made and comes with a good package, the leg and foot massagers would be an excellent gift for yourself and the one you loved on birthday, Mother's Day, Father's Day, Thanksgiving Day, and Christmas.