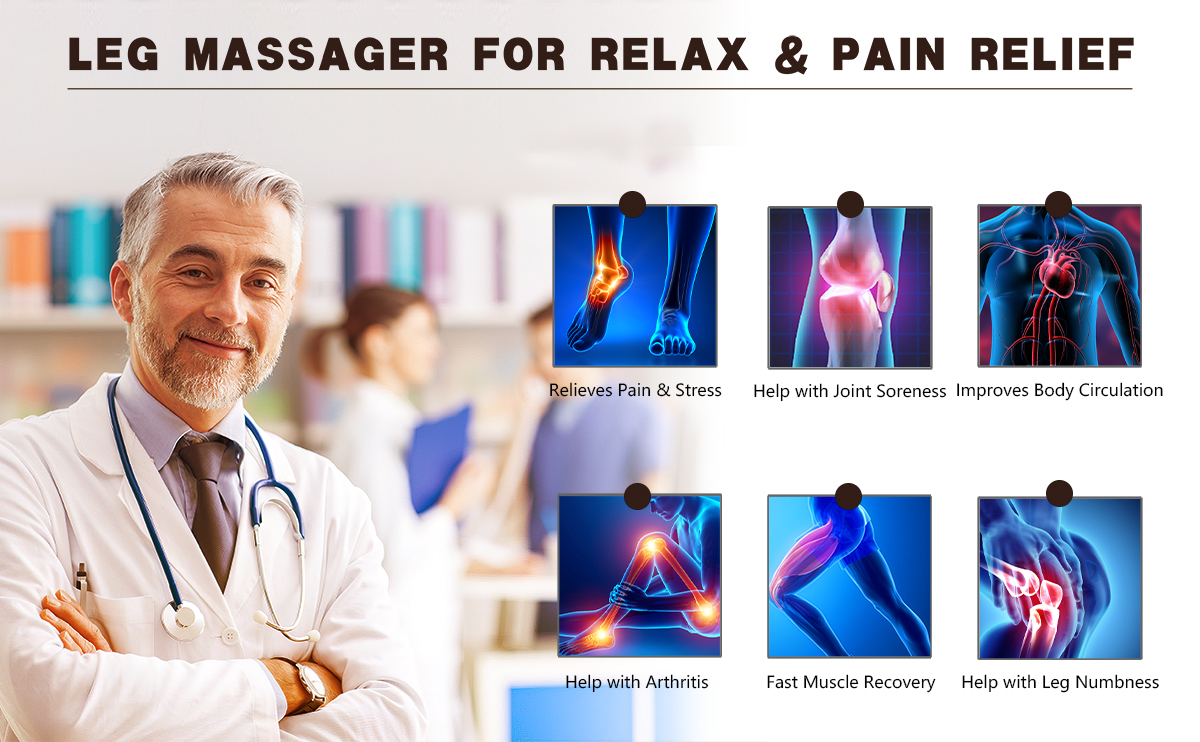 FIT KING Air Compression Leg and Foot Massager for Circulation & Pain Relief
3 in-1 massager for feet, calf, and thigh. It can effectively promote blood circulation, help with lymphedema, swelling, and DVT, relieve pain, eliminate tiredness and soreness, and help prevent multiple leg diseases. Research shows that massage with heating is beneficial to eliminate lactic acid, which is produced during exercise and makes your muscles heal quicker.
Who Needs This Foot And Leg Massager?
This full leg massager with heat is recommended for athletes, sports enthusiasts, office workers, people who walk, stand or drive for a long time, the elderly, and people with poor blood circulation or other leg diseases. As your personal massage therapist,you can use it any time. Convenient to use at home, in the office or while traveling. It will help with your recovery and enhance your performance every day.
Adjustable Wrap to Fit Any Size
This foot and leg massager is made of breathable fabric material that can fit your legs around and wrap them well. High-quality Hook & Loop that helps you to adjust the product to the size you want. 2 extenders are included in the package, allowing you to adjust the calf size up to 28.5 inches or adjust the thigh size up to 36.5 inches. Fit for 5'1" up to 6'2" tall.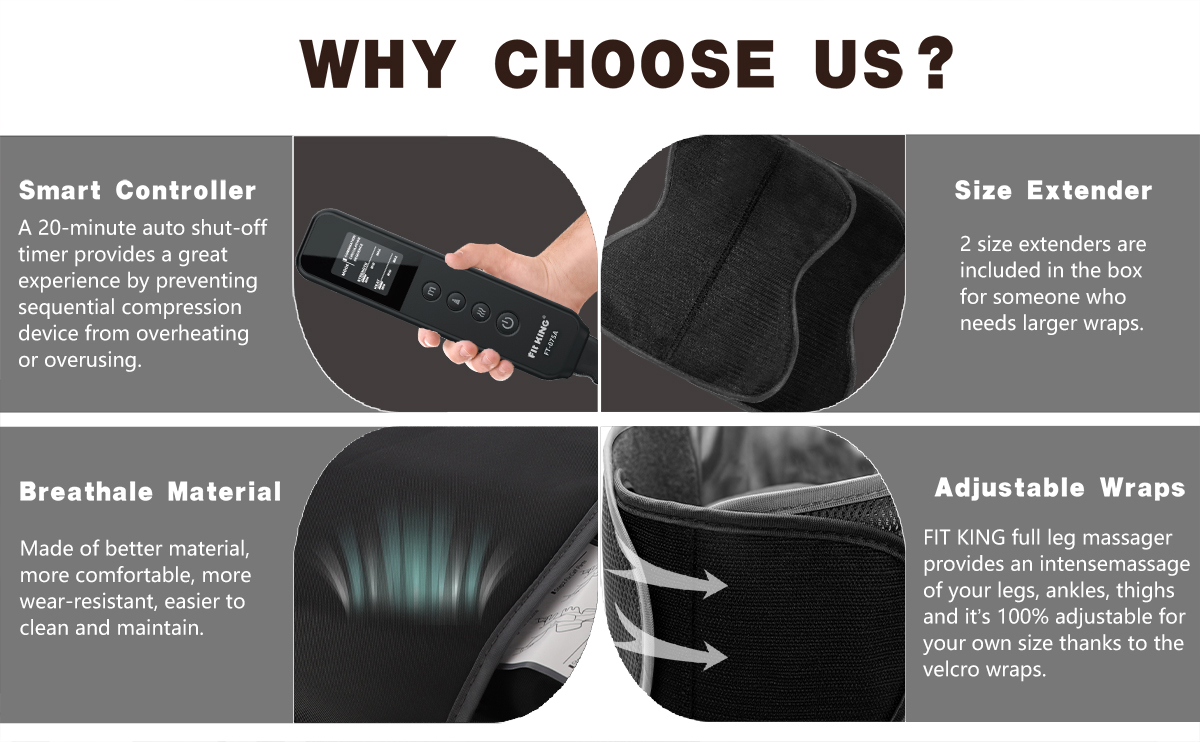 WHY CHOOSE FIT KING LEG & FOOT MASSAGER?
Featured Functions:
1. High-quality, heavy-duty nylon fabric and are designed for long-term use.
2. 4x2 air chambers in 4 zones(feet, lower calves, upper calves and thighs).All chambers with heat function.
3. 3 Modes+3 intensities+3 heating levels are adjustable easily by a smart LCD handheld controller.
4. Wide & adjustable size, comes with 2 extenders which can comfortably accommodate for any size legs.
5. Build in a 20-min auto-off function to prevent overuse and make it safe in case of sleeping during the massage.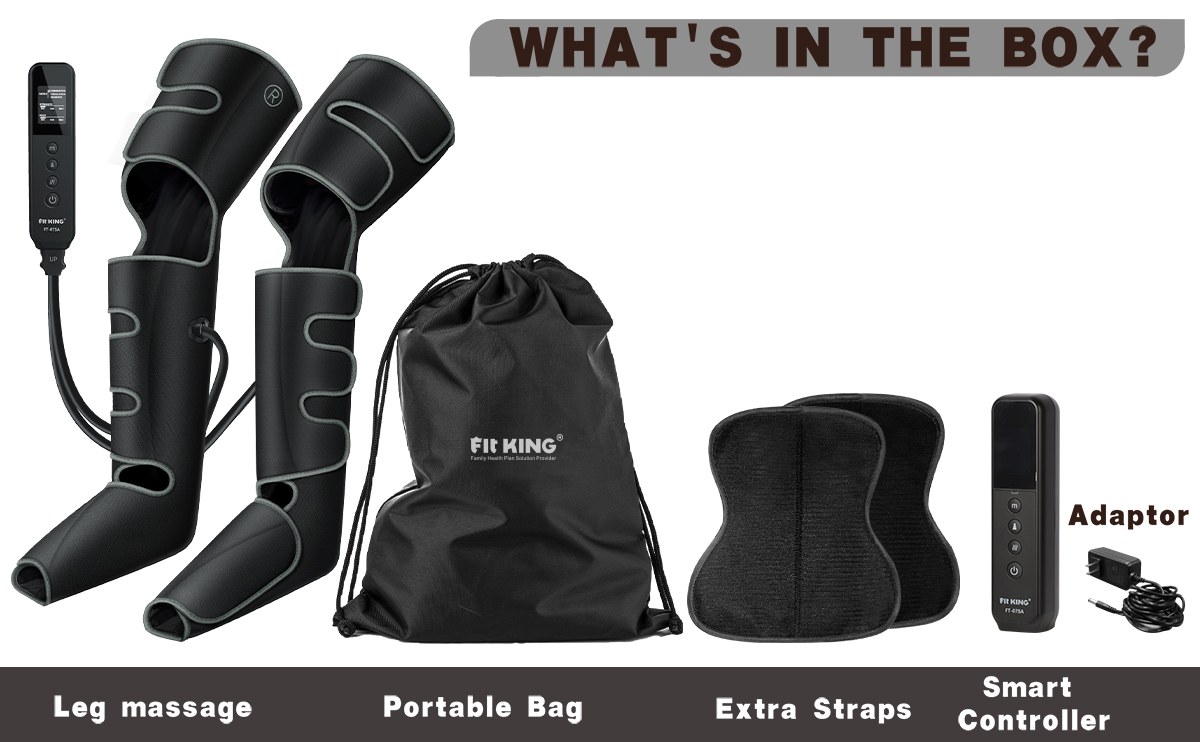 Know More About FIT KING Upgraded Leg & Foot Boots Massager with Heat
Q1: Which parts have heating functions?
A1: All the foot, calf and thigh parts have compression massage and selectable heating functions.
---
Q2: Is it easy to suit up?
A2: The "suit-up" process is extremely easy, the package comes with a Quick Start Guide and user manual.
---
Q3: What is the material of the sleeves?
A3: The leg sleeves are made of breathable material and are very comfortable.
---
Q4: Can I use it in other countries?
A4: Yes, the voltage of the adapter is AC100~240V DC12V3A, you can use it in any country.
---
Q5: What is the package included?
A5: 2x Compression sleeves (A Pair); 1x LCD Handheld Control; 1x Adapter; 1x Manual; 1x Quick-start Guide; 2x extenders; 1x Carrying Bag.