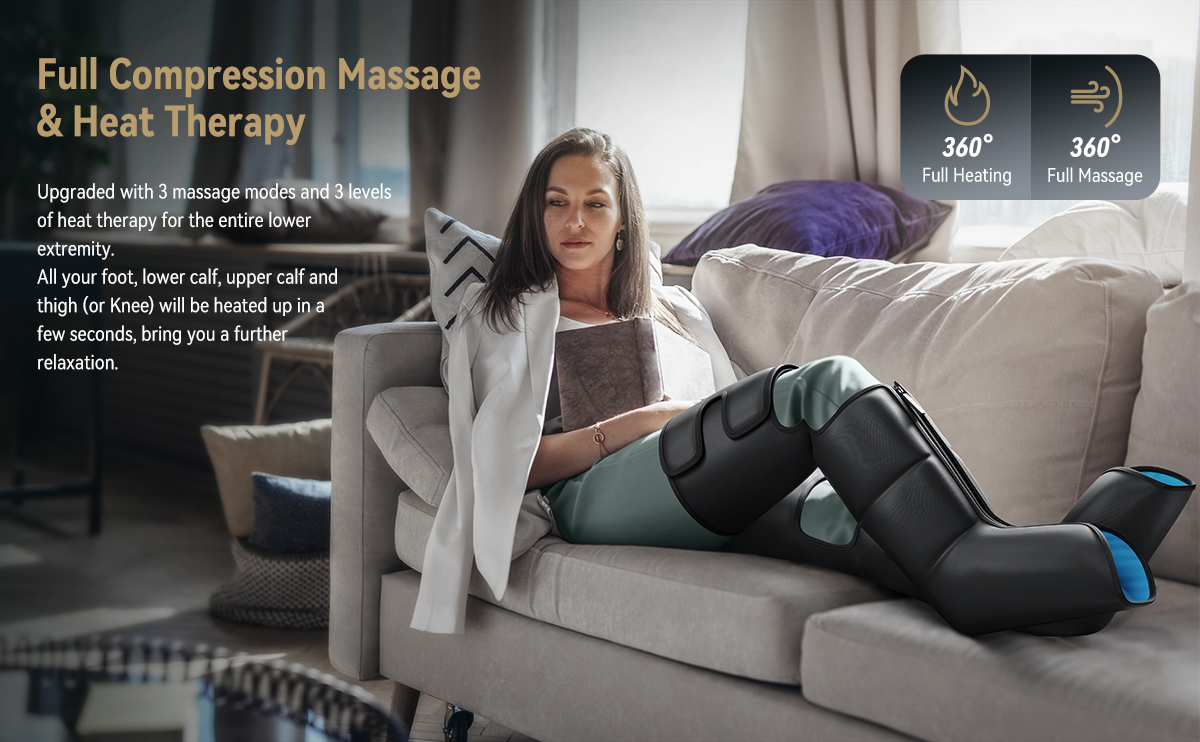 FIT KING air compression boots massager with heat covers your feet, calves, and thighs firmly, applying the right pressure to your feet and legs, and it upgraded with heating function for all chambers, effectively improve the blood circulation, help with lymphedema, swelling, DVT, soreness, or leg fatigue with stress and sports. Use it once or twice a day, you can expect to see a big difference in your day to day life.

What's the Benefits of Compression Boots Design:
This full leg and foot massager is upgraded with a compression boots design, which can 360° cover all your feet and legs (not just the soles of the feet or the calves), and offer sequential compression massage in complex patterns that stimulate hands kneading and squeezing massage, bring you a relaxing and all-round massage at home, effectively boost the blood flow, helps relieve muscle fatigue and pain.

More Friendly Wearing, Operation and Use Experience:
This sequential compression leg and foot massager comes with a digital & handheld controller, which can clearly indicate the current settings. With the help of built-in pressure sensors, all users with different sizes can enjoy the preset optimal pressure intensity & massage experience. Simply put, whether it's a very stout athlete or a young woman, they can experience the same level of massage pressure without making the former feel too painful or the latter too light.
No need to bend over to tie Velcros or adjust their size, it's much easier to put on or take off the boots with zippers instead of Velcros, which are very helpful and friendly, especially for seniors.
Note: In order to 360° cover and massage your foot and leg, this air compression massager machine has 4+4 big chambers with compression boots design. It takes 5-10 seconds to inflate them at the beginning, then massage different parts according to different modes and pressure levels. Especially, if the user's feet and legs are small, it needs a little more time so that they can experience the same level of massage pressure.

One Size Fits Most & Flexible Massage Configuration
Whether you're 6 feet or taller, this leg and foot boots massager with heat is for you, the wraps of the thigh part also can be used for knee or upper calf. With the built-in pressure sensors, all your family with different sizes can use it. For some users who have thicker legs or bigger feet, we also have the size extensions for sale.
If you use the top leg wrap on your knees, your knees can also enjoy 3 massage modes, 3 intensity levels and 3 heat treatment levels, and it can cover the knee and surrounding area, very helpful for those with knee cold, pain, or discomfort due to poor circulation.

Know More About FIT KING Upgraded Leg & Foot Boots Massager with Heat
Q1:Which parts have a heating function?
A1: All the foot, calf and thigh parts have compression massage and heating functions;
---
Q2:How many massage modes, and heating levels?
A2: There are 3 Massage modes & intensities, and 3 heating levels;
---
Q3: How many massage chambers does it have?
A3: It has 4+4 massage chambers: foot, lower calf, upper calf and thigh (or for knee).
---
Q4: Can I use it in other countries?
A4: Yes, the voltage of the adapter is AC100~240V DC12V3A, you can use it in any country.
---
Q5: What is the pressure range in mmHg?
A5: MIN: 60mmHg; MID: 90mmHg; MAX: 140mmHg;
---
Package Included:
2x Compression Boots (A Pair); 1x Handheld Control; 1x Power Adapter; 1x User Manual; 1x Quick-start Guide; 1x Carrying Bag.
Please consult the doctor before use for :
Using pacemaker or other medical devices which are susceptible to electrical interference;

Being pregnant or at puerperium;