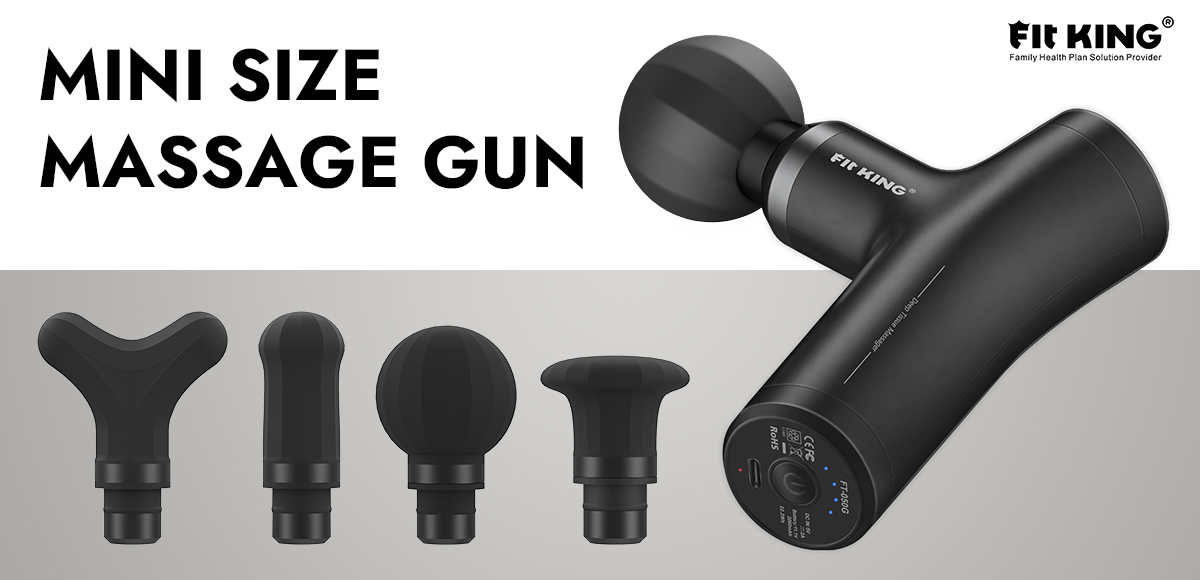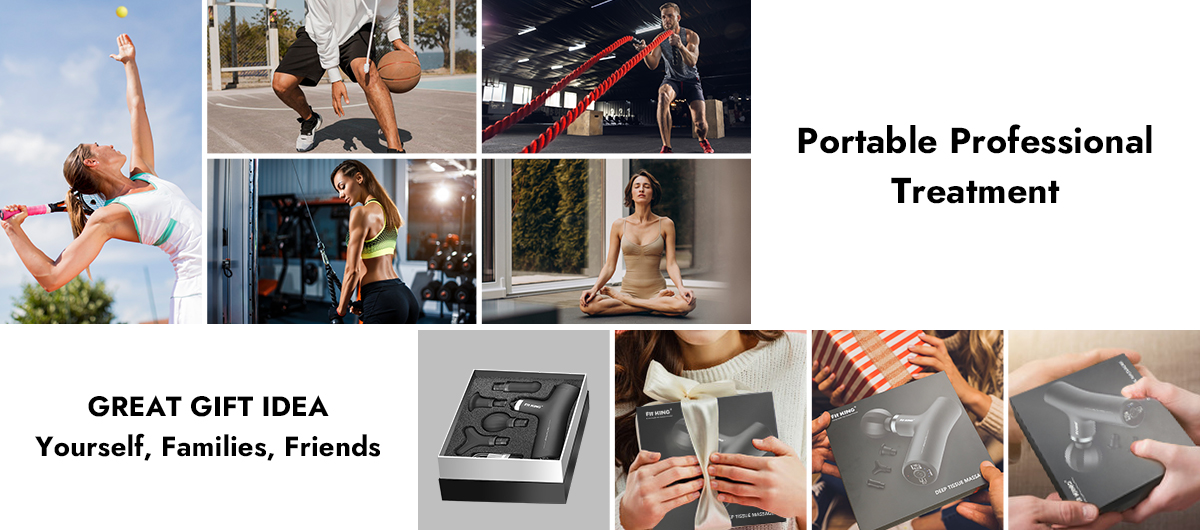 FIT KING New Deep Tissue Massager Gun has a pocket-size body and a more ergonomic Y-shaped design, easy to grab and use. It's small and versatile, comes with 4 massage heads & 4 speeds, powerful enough to work on knots and tension, improve blood flow and quickly enhance the range of motion. Whether you are a housewife, an office worker, a fitness fancier, a frequent traveler, or a professional athlete, you will definitely benefit from this massage gun.
Compact and lightweight design makes it more portable to carry around. The battery can last up to 6 hours of continuous usage, you can use it at home, office, gym, even traveling, and relieve your sore muscle anytime you want.
4 Heads & 4 Speeds for Whole Body Massage
4 different head attachments are comprehensive, allow to target different muscle groups, let's say your arm, neck, shoulder, back, waist, leg and foot, etc.. Besides, there are 4 intensity speeds available, which means that whatever pain, stress or tension you are experiencing will be met handily, bringing you a full body massage and relaxation.
Quiet, Powerful & Compact
With a high-torque brush-less motor that offers continuous power, this device can get out the deepest and toughest knots. The speeds range from 1500 rpm - 2500 rpm, reaching up to 6mm amplitude.
It also employs Noise Reduction Technology, which brings you an enjoyable and quiet massage experience. The running sound is less than 45db, low dB performance is clear of noise when you use it at home, gym, office.
Easy to Use
Only one button to operate, long press to power ON/OFF, and short click to change between 4 speeds, and there are indicators for battery and intensity level, simple and convenient. The massage gun is programmed with 15 mins auto-off to ensure safety and avoid over massage, you can reset anytime.
Long-Lasting Battery & USB-C Charging
Built-in 2000mAh battery support up to 6 hours after fully charged. The Mini Massage Gun can be charged by any USB device with provided USB-C cable. It's compact and comes with a carrying bag, you can carry it around even traveling, massage your body anytime anywhere
Your Idea Pocket Massager
+ Fast Recovery - Accelerates recovery by increasing blood flow, unwinding tight muscles, and promoting circulation
+ Enhance Performance - Improves range of motion and flexibility through the removal of knots and reducing of tension/stiffness
+ Daily relaxation - Consistent use can release Knots, Cramps and Spasms caused by repetitive stress, poor posture or overworking.
Specifications:
Battery Capacity: 2000 mAh
Charging Time: 3 Hours
Working Time: max. 6 Hours
Timer: 15 Minutes
Weight: 0.88 Lbs
Package Includes:
1x Massage Gun
4x Massage Heads
1x USB-C Charging Cable
1x User Manual
1x Storage Bag