Finding a device that does all the things at the same time?
Full Leg Health Care
Instead of providing vibration or kneading massage, FIT KING full leg massager offers air compression massage, which is widely used in hospitals, more comfortable and effective to relieve the leg issues like swelling and pain. It has 3x3 large airbags to provides both intermittent and rhythmic compression therapy to massage your FOOT, CALF and THIGH.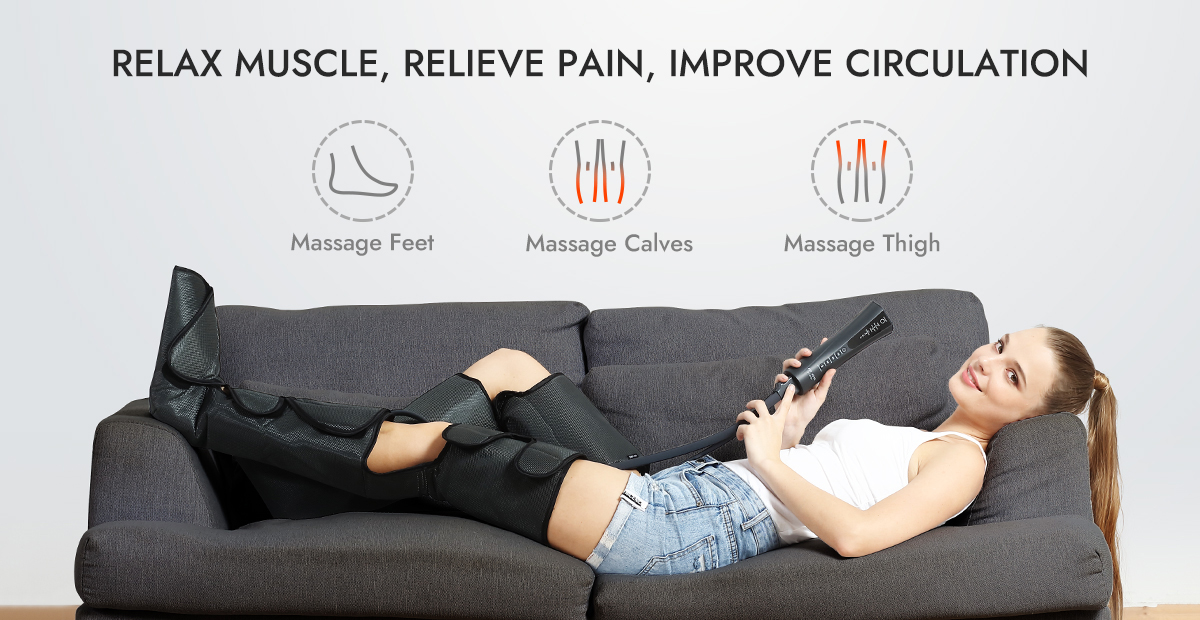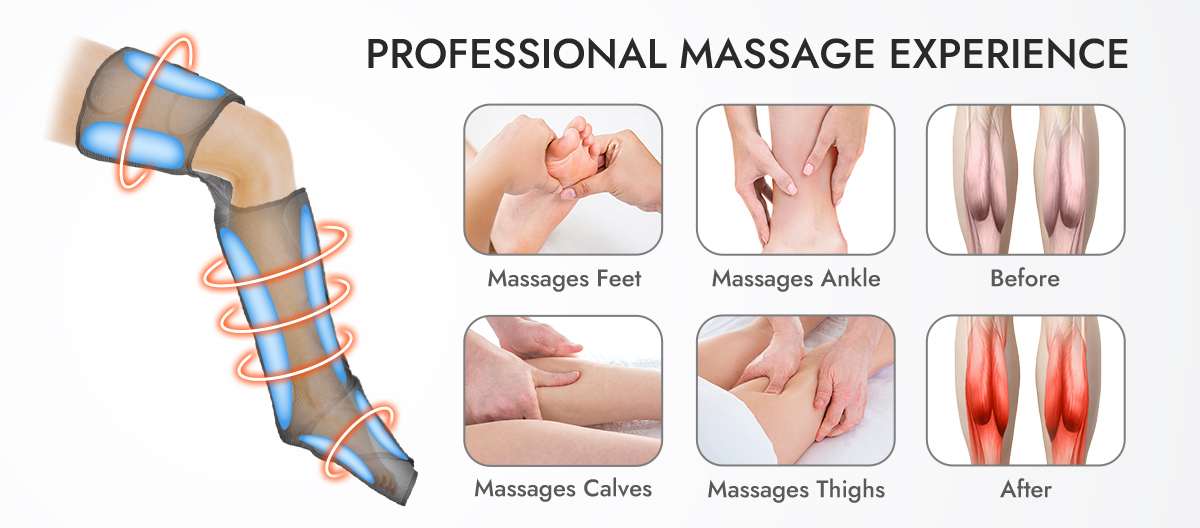 Relieve Swelling and Pain
Air pressure compress and releases, simulate hand kneading, effectively soothe sore muscles, and reduces swelling. Great device to alleviate the pain from RLS, Cramps, or Varicose Veins.
Enhance Performance and Recovery
Help with removing lactic acid and other toxins that build up after intense workouts while decreasing swelling and stiffness, promote faster healing and recovery. You can back to the next training at ease, perform better and may be able to break the limit.
Improve Circulation
The regular pulsating from the air compression massager keeps the lymph fluid constantly moving and boosts blood flow, allowing for faster & more effective removal of metabolic waste. Long-term use will improve mobility in legs & feet.

3 Modes+3 Intensities
This leg massager for circulation has 3 massage modes and each mode can be set with 3 intensities, which means that there are 9 settings to choose from, and you can operate with a handheld controller, handy for anyone to use.
20 Minutes Auto-off
For safety consideration, this leg massager shuts off automatically after 20 minutes, avoid overuse as you might fall asleep during the relaxing massage experience. Surely you can reset it anytime if needed.
Bigger Foot or Larger Leg?
With velcro closure to fit most people's use. Small leg? fix the velcro closures smaller and it will fit; Larger leg? use the included extenders, which allow accommodating the calf up to 28.5 inches; Bigger foot? just cut the stitches of the foot toe; And it fits thigh size under 26 inches, buy extra extensions to accommodate up to 40 inches if needed.

Do I Need a FIT KING Air Compression Foot & Calf & Thigh massager?
People of all ages can benefit from using this leg massager even if you aren't chronically ill.
1. People who are sedentary work
2. People who are on their feet all day long
3. People who are on a regular training
4. People who like dancing, biking, hiking, etc.
5. People who unable to get enough exercise
6. People who suffer chronic leg pain
7. People who have RLS, cramps, edema
8. Mid-aged and elderly that need daily leg care
Tips for Using
1. Check the Left/Right leg wrap to get the best possible experience;
2. Don't wrap too tight, leave some space for the airbag inflating;
3. Make sure both hoses are connected to the controller to make it work;
4. Fold and storage the wrap in the carrying bag, portable to take it anywhere.

Perfect Home Use Massager
FIT KING full leg massager is a perfect device to have around the house, massage your leg anytime you want. It's made with soft and durable material, well packed, should be a great gift for Mother's Day, Valentine's Day, Thanksgiving and Christmas.