FIT KING Foot Circulation Stimulator is an FDA cleared Class II device, combines 3 therapeutic methods, EMS&TENS + KNEADING + HEATING, offers a drug-free method of pain relief and pain management, it sends out low-frequency pulse to stimulate the nerve and boost the muscles contraction, effectively relieve the pain and promote circulation for lower legs. Comes with 4 electrode pads, which allow you to target other parts of the body, reduce stress and stiff muscles, enhance muscle activity, it can also help with the pain from a sports injury, knee injury, joint injury...
SPECIFICATIONS: Input Voltage: AC100~240V, 50/60Hz; Output Voltage: DC12V 2A
PACKAGE INCLUDES: 1x Foot Stimulator; 1x Remote Control; 4x Electrode Pads; 1x Electrode Wire; 1x Power Adapter; 1x User Manual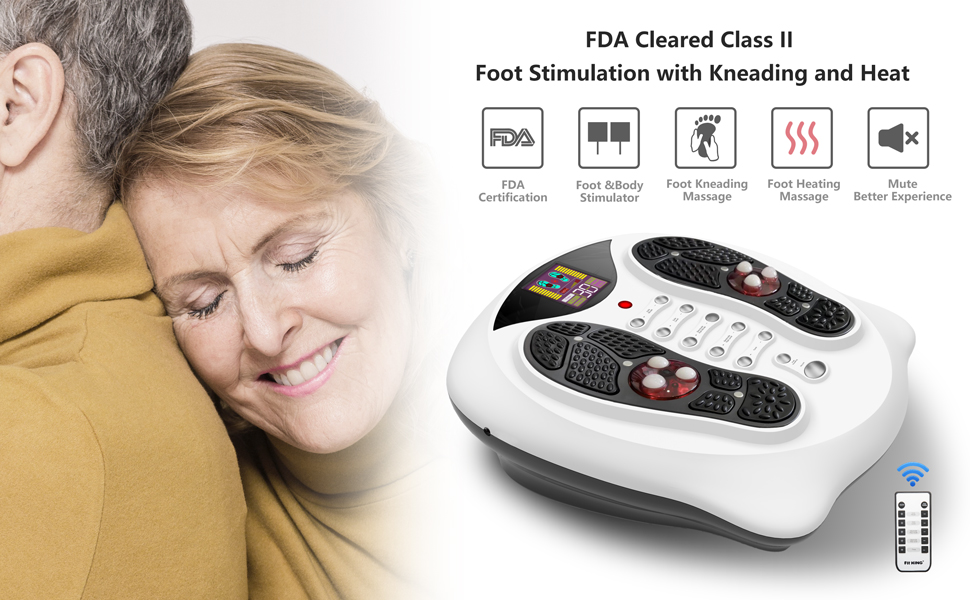 Features:
+10 Waveforms
+Intensity levels 1-99
+2 pairs electrode body pads
+Optional heat kneading
+Remote control
+Adjustable time from 1 to 30 minutes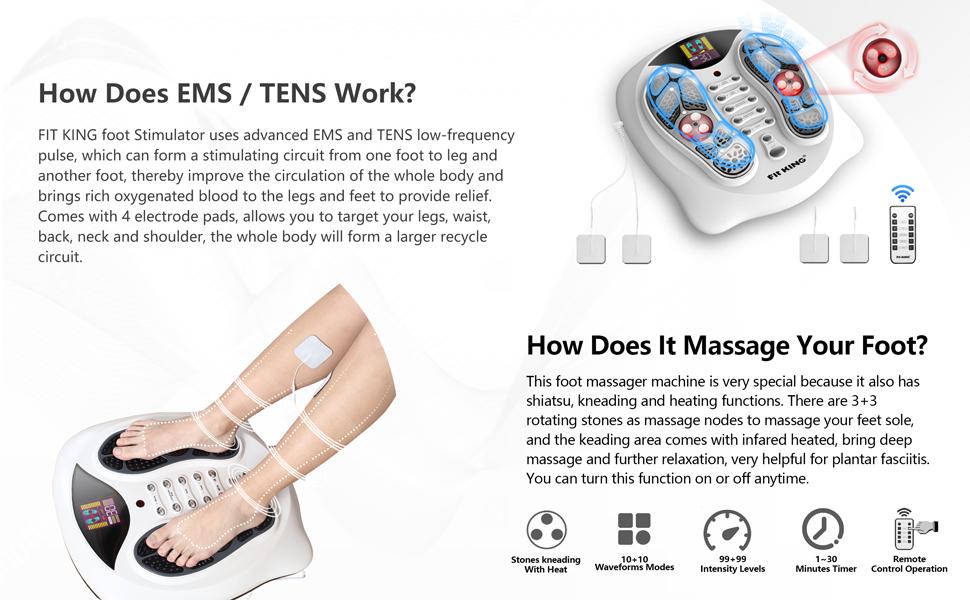 What & Who Can it Help?
Relieve Pain & Soreness
It can help young people to relieve sore feet, aching ankles, pain in heels, or tired legs. Benefit for people who:
1. Standing or walking with high heels
2. Sitting in front of the computer all the day
3. Travel frequently
Improve Circulation & Plantar Fasciitis
Shiatsu and kneading to massage your feet sole, and the kneading area comes with infrared heat, promote the blood to flow and bring future relaxation, helpful for people who suffer from plantar fasciitis and Circulatory issues.
Relieve Fatigue & Swelling
It's easier to get stressed and tired as the age grows, this device is not only for foot, with extra pads to reach other body parts, use it once or twice a day will improve the mobility of the body, walk further and longer.
Relax Muscles & Quick Recovery
There are 99 pulse intensities available, you can set with either a gentle stimulus to relax muscles or a hard one to reach deeper, which will effectively help the athletes get the faster recovery and improve the flexibility, train harder to break their limits.

More to Know about this Device
Control Your Own Time
There is a default timer of 10 mins, but you can press the TIME button to change the time setting, max. 30 mins. The device will shut down automatically when the time is up, ensuring a safer experience.
Easy to Use
Comes with remote control and a colorful LCD screen, the buttons are simple to understand. You can control all the functions with the remote control or access the buttons on the device by your toe, no need to bend down!
Fit All Sizes
Designed with an open sole pad to fit all sizes, all the black areas will send out pulses, toes may hang out a little bit for bigger feet, but you will feel the stimulus as long as most of the feet contact the pads.
Great Gift Option
FIT KING products are well made in high quality, this model is our newest product, helpful for most lower leg problems and very good for daily muscle relaxation, would be a great gift for yourself or for the one you love.