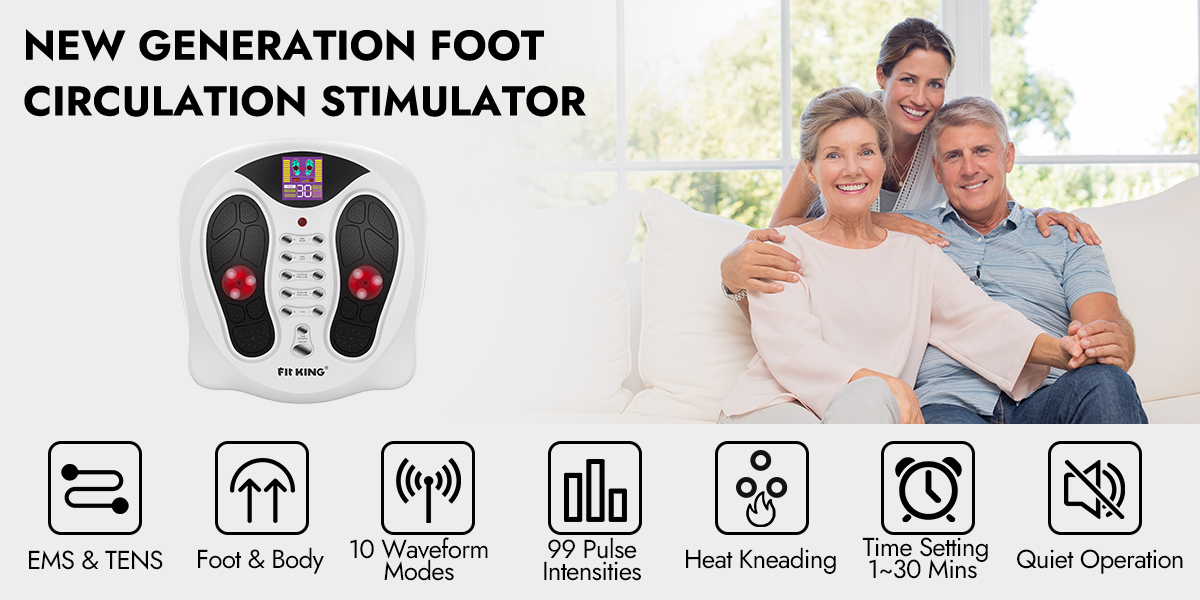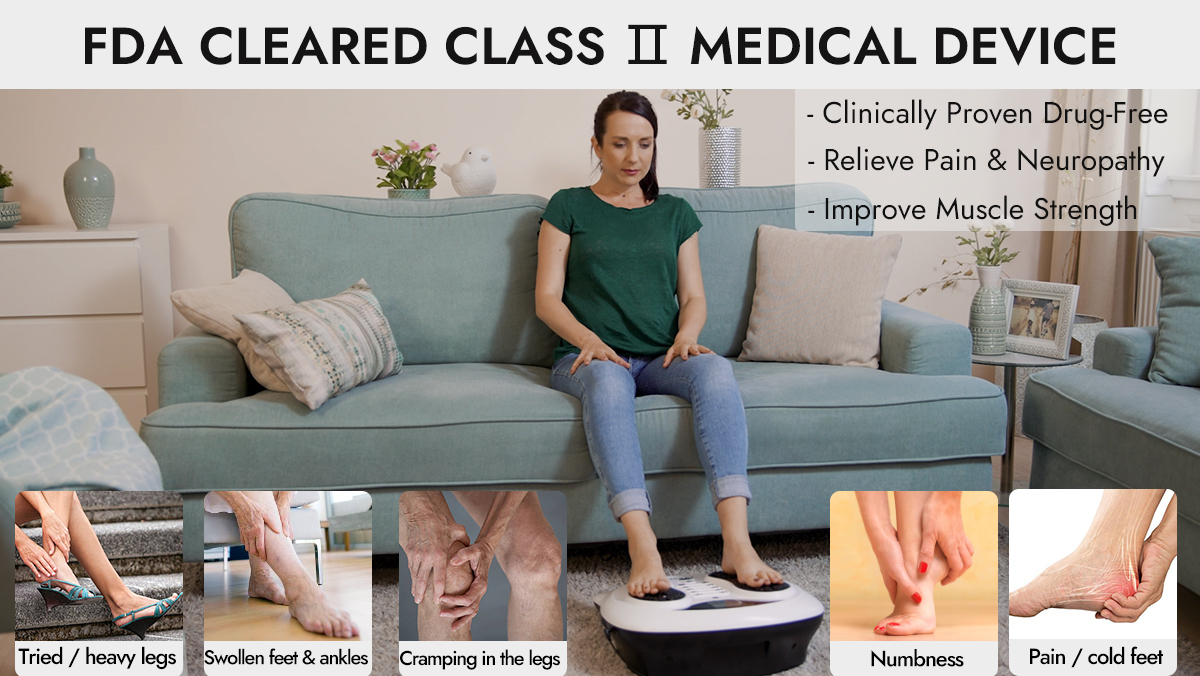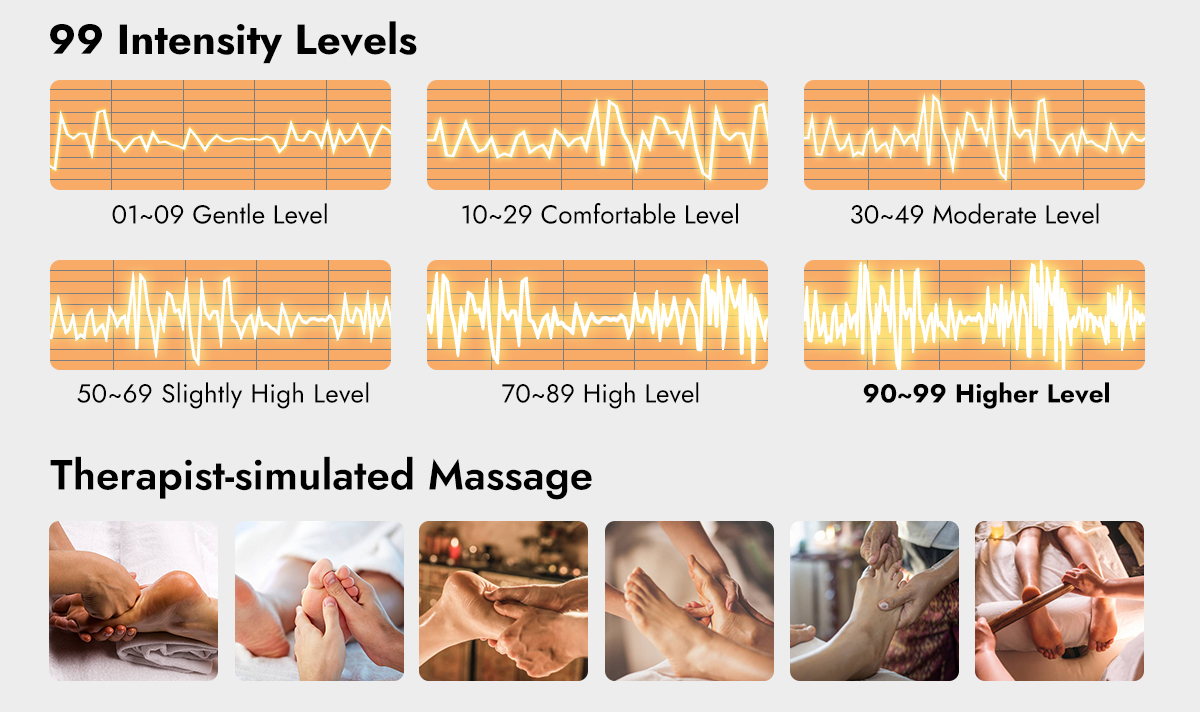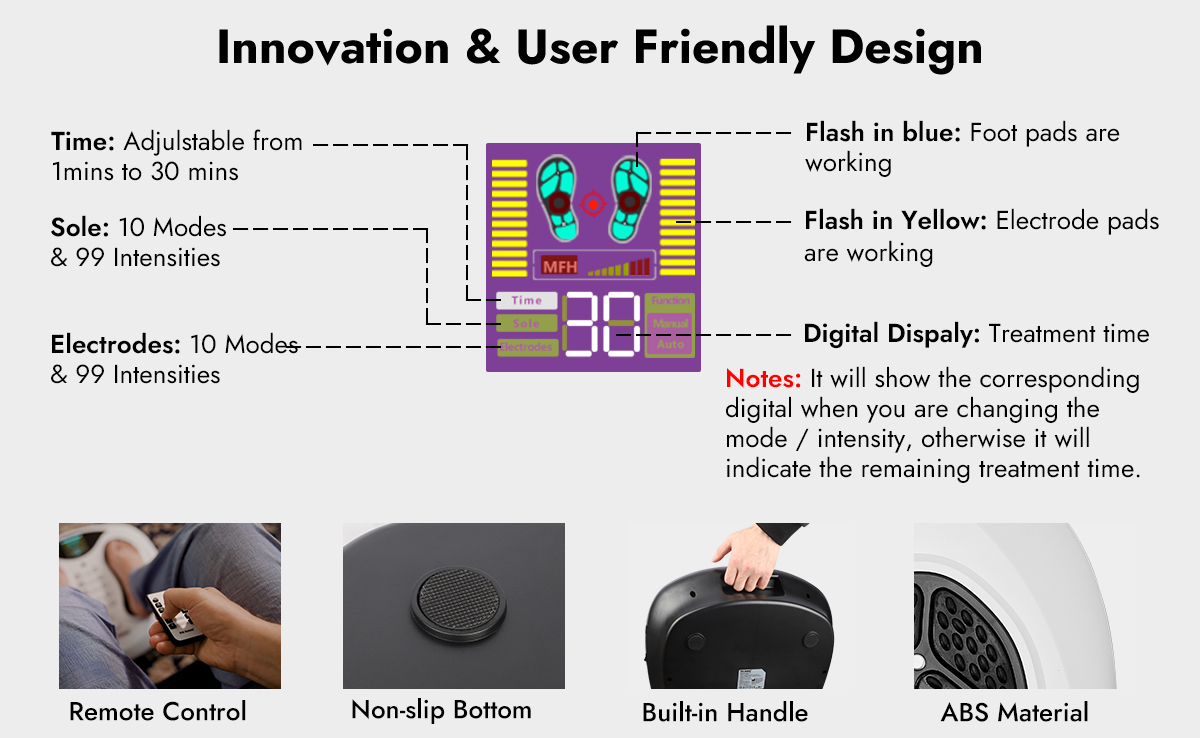 FIT KING Foot Circulation Stimulator is an FDA cleared Class II medical device, that combines 3 therapeutic methods, EMS&TENS + KNEADING + HEATING, offers a drug-free method of pain relief and pain management, it sends out low-frequency pulse to stimulate the nerve and boost the muscles contraction, effectively relieve the pain and promote circulation for lower legs. Comes with 4 electrode pads, allow you to target other parts of the body, reduce stress and stiff muscles, enhance muscle activity, it can also help with the pain from a sports injury, knee injury, joint injury...
What Benefits You'll Get from Using This Device
+Boost circulation
+Relieve aches & pains
+Improve leg strength (walk further & faster)
+Enhance mobility & flexibility
+Targets and relieves body pain
+Promote Better Sleep
Tips of Using:
1. Do not wear socks, BARE FEET use
2. Place 2 feet on the foot-pads at the same time, otherwise, there is no pulse
3. You can use hot water to soak the feet to increase the conductivity
4. Start from the lowest intensity level, increasingly build up after getting used to it
How Can EMS & TENS Help?
Unlike the traditional massager, this one is with EMS(electrical muscle stimulation) and TENS(transcutaneous electrical nerve stimulation), which can reach deeper into the nerve, stimulate the tissue to achieve better and more effective pain relief.
TENS and EMS tech is a safe, drug-free method of pain relief. By sending out a low-frequency pulse, which can form a stimulating circuit from one foot to the leg and another foot, stimulate the muscle to contract, thereby bringing rich oxygenated blood to the legs and feet to provide relief.
What Makes This Device Special?
Optional Heated Kneading functions is the biggest bonus, there are 3+3 rotating stones as massage nodes to massage your feet sole, and the kneading area comes with infrared heat, offering deep massage and further relaxation, very helpful for plantar fasciitis. There is an individual button to control this feature, you can turn this function on or off anytime.
Do not use:
If you have a pacemaker fitted or a cardiac condition;
If you are epileptic;
If you have sensory nerve damage;
Do not use on vital parts, such as carotid sinus nerves, across the chest, or across the brain;
2 Channels - Targeting Whole Body
This is a dual-channel device, both can send out low-frequency pulse to the nerve and offer deeper relief. Main unit SOLE PADs for feet and legs, reduce swelling foot and aching ankles, help with Cramps and RLS. Extra ELECTRODE PADs (2 sets are included) can be used to target other pain points, help for treating back pain, arthritic or inflamed joints, and shoulder tension, faster relieve muscles and enhance strength.
Tips: 2 channels can be used together or independently.
Easy & Safe to Use
It comes with remote control and a colorful LCD screen, buttons are self-explanatory and the screen display is simple to understand. You can control all the functions with the remote control or access the buttons on the device by your toe, no need to bend down!
* There is an extra switch on the right side to turn the power on / off for safety consideration, more reliable.
Control Your Own Time
There is a default timer of 10 mins, but you can press the TIME button to change the time setting, from 1 min to 30 mins. The device will shut down automatically when the time is up, ensuring a safer experience. You can reset for a new session if needed.
No Foot Size Limitation
Designed with an open sole pad to fit all sizes, all the black areas will send out pulses, toes may hang out a little bit for bigger feet, but you will feel the pulse stimulus as long as most of the feet contact the pads.
Wide Range of Settings
Each channel has 10 waveform modes is available and the intensity can adjust from 0 to 99 you can set as mild or more intense as you are comfortable with for different areas, totally customized for particular needs.
Intensity Setting Suggestions
Level 01~09 :Gentle intensity, suitable for low-frequency-pulse sensitive people
Level 10~29 :Comfortable intensity, suitable to relieve fatigue and stress
Level 30~49 :Moderate intensity, suitable to reduce numbness / stiffness
Level 50~69 :Slightly High intensity, suitable to relieve soreness and pain
Level 70~89 :High intensity, suitable to ease swelling / aching joints
Level 90~99 :Higher intensity, carefully use according to particular needs
***Each person is different in how sensitive and receptive they are to low-frequency pulse, please choose your comfort level per needs.
Package Includes
1x Foot Stimulator
1x Remote Control
4x Electrode Pads
1x Electrode Wire
1x Power Adapter AC100~240V / DC 12V2A
1x User Manual