FIT KING® Deep Tissue Percussion Massage Gun is a handheld massage device that can have multiple benefits for your body. For people with neck, shoulder, and lower back issues, it could be a lifesaver. For those who train or work out in a regular routine, such as athletes, sportsmen, or fitness buffs, it is a necessity for warm-up and recovery. Well, if you are sitting down every day and working in an office chair, this powerful handheld massager comes in handy that you can relax in the comfort of your own home or in the office.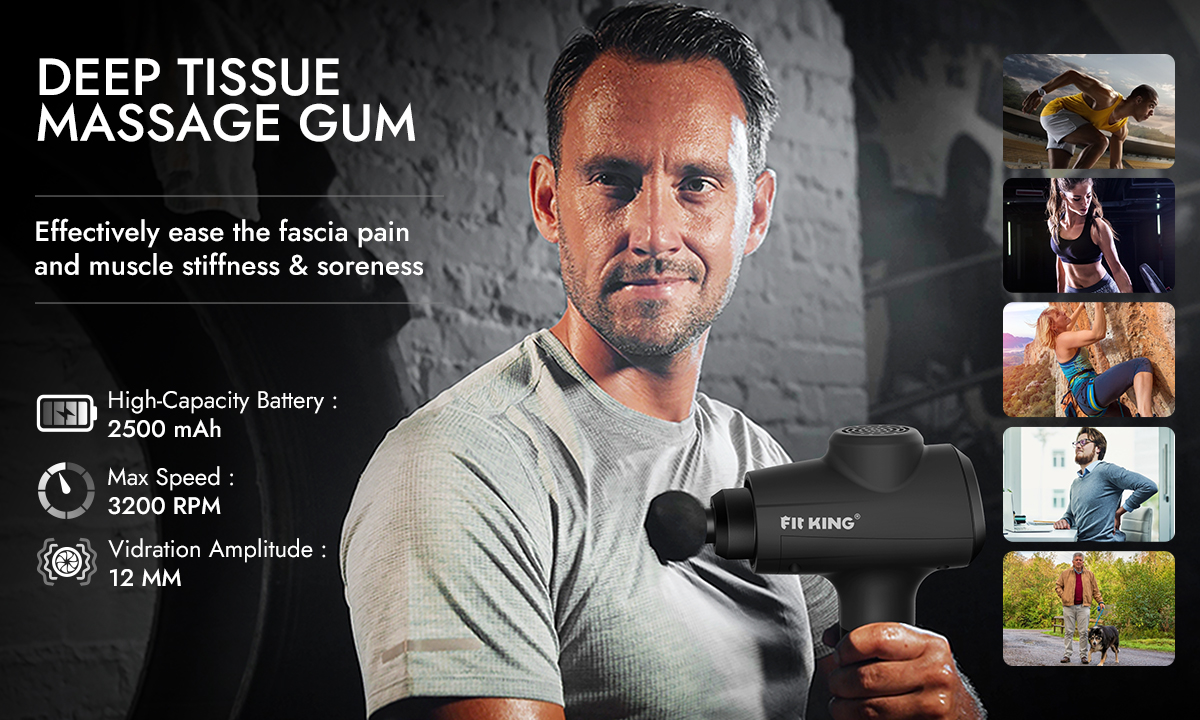 DEEP TISSUE MASSAGE
FIT KING® Massage gun offers high-frequency percussion onto tissues, concentrated stimulation reaches 12mm amplitude, effectively ease the fascia pain and muscle stiffness & soreness. The stable and consistent pressure can also promote the circulation of the treated areas.
Targeted & Accurate Percussion
Comes with 6 different types of massage heads, targeting many parts of the muscle group of your body- leg, back, arm, shoulder... No size limit! No body parts limit! Offering an accurate massage and get fast relief of any desired areas.
With 20 speeds available to fulfill your different massage needs, the settings can go from very light stroking of tissues to pretty strong pressure, provides various massages for the whole body.

MEETS ALL YOUR NEEDS - RECOVER & RELIEVE & RELAX
Enhance Recovery & Range of Motion
Percussion massage can help to remove metabolic waste including lactic acid, shorten the recovery time in between trainings and workouts, regular use will enhance mobility and flexibility, very helpful for athletes and fitness enthusiasts.
Relieve Soreness & Stiffness
This massage gun works on knots and stiffness effectively relieves sore muscle, reduces some of the pain of your leg, back, shoulder, neck, or arm, good for anyone that stand or sit for a long time, or anyone who likes hiking, dancing, biking etc.
Relax Muscle & Improve Circulation
Set with your comfortable speed, apply the massager to stroke on different parts of your body, get a stress-free relaxation, you can feel the blood flow faster and the treated area gets warm, circulation got improved.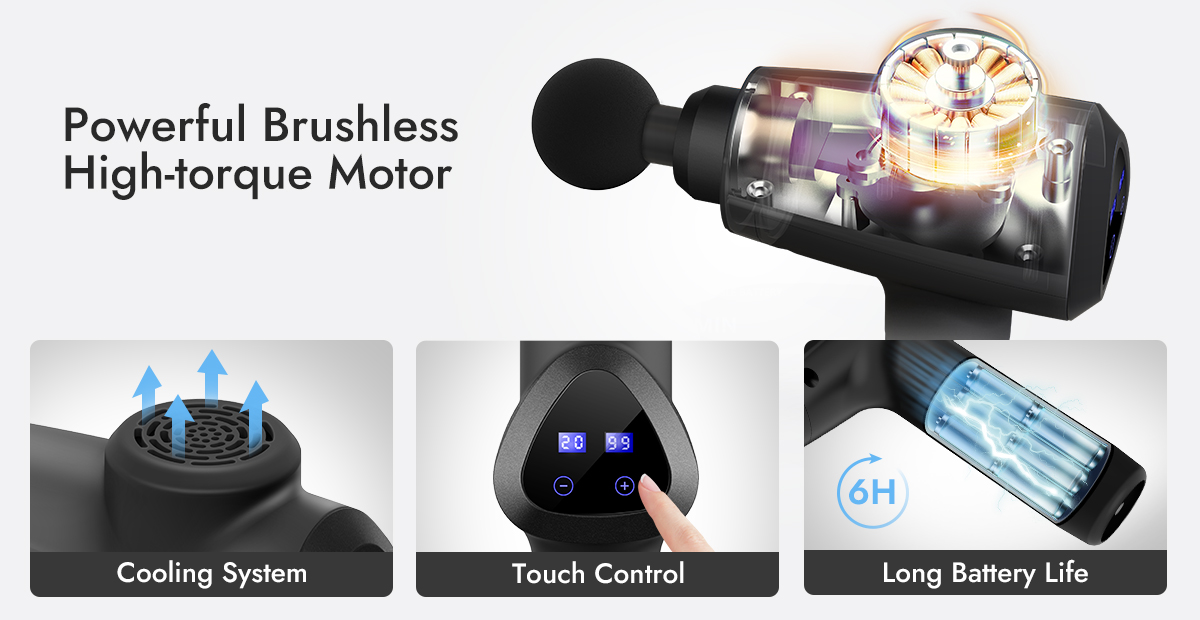 Powerful & Quiet Motor
Equipped with a new generation brush-less high-torque motor to achieve a powerful massage yet in a very little noise, offering you a quiet and soothing experience, feel free to use it at the home, office, gym without worrying about disturbing others.
Cooling System
Designed with a large heat dissipation window on top of the massage gun, which can effectively prevent it from overheat, improve performance and extend the use time, reduce the probability of product failure.
Simple & Clear
Once the massage gun is switched on, you can control the speed by touching +/- on the LCD touch screen, the speed level and remaining battery are a digital display, easy and simple to use. Also has a power swift on the bottom to prevent turning it on/off by accident.
Long Battery Life
Built-in 2500mAh battery, fast charge and it can last up to 6 hours, which means that it can support 16 days of usage if use it f 20 mins a day


Protective Carrying Case
Included a durable and stylish carrying case, which has molded places for each item including the adapter, organized and protected, easy to carry around.
Specifications


Rated Voltage : 100V~240V




Battery Capacity: 2500 mAh




Charging Time: 3 hours




Working Time: up to 6 hours




Timer: 10 minutes

Package Includes


1x Massage Gun




6x Massage Heads




1x Adapter




1x Carrying Case




1x User Manual
Gift for Everyone
FIT KING® massage gun is sleek looking, versatile, effective and very attractively priced, would be a great gift for yourself as well as your families and friends.