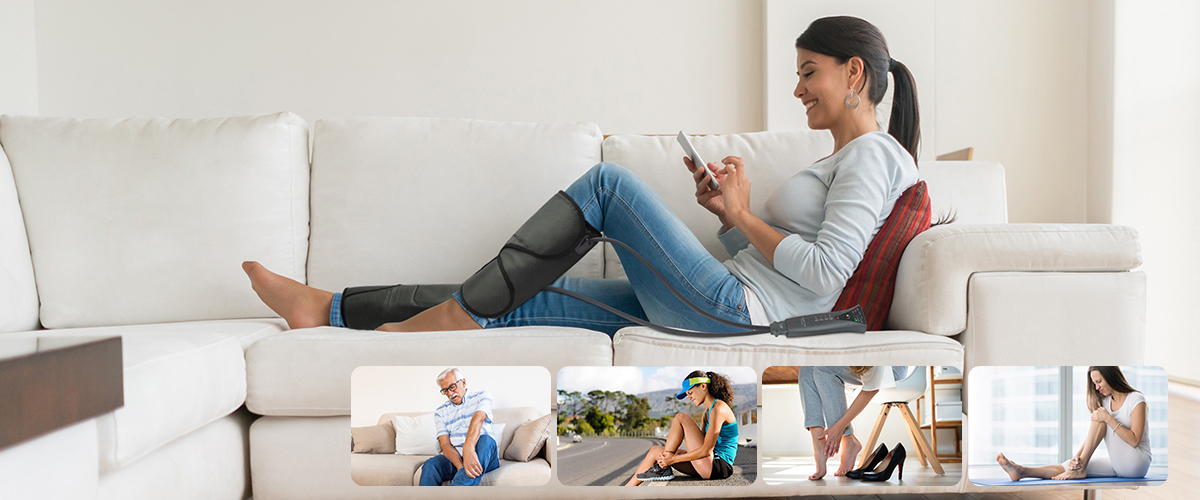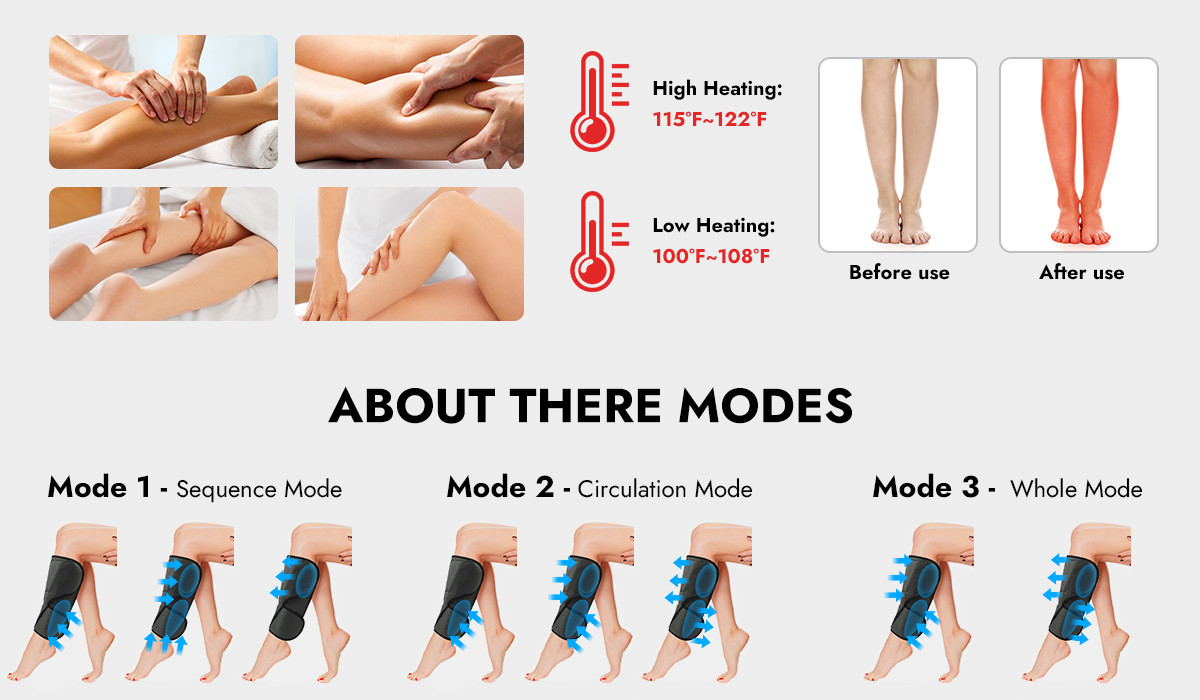 Relieve Fatigue and Pain At Home Or In The Office
FIT KING air compression leg massager has 2x2 massage chambers inside, can massage more areas on calves, to relieve fatigue and improve blood circulation after long time work or standing. There are 3 massage modes & levels with different massage techniques, providing different massage experience and meet different usage scenarios and needs.
Featured Functions:
3 Air compression massage modes and 3 intensities with different massage techniques selectable, relax your leg muscles, and

helpful for restless leg syndrome, varicose veins​, swollen legs.

;

2 Levels of heating function can be pretty effective to warm up your legs, relieve leg pain and improve circulation;

20 Minutes automatically shut-off functions, very useful for the elderly;

Adjustable size, suitable for your whole family use;

Portable design with a free storage bag, take it at home, in the office or on trip easily.

Improve Circulation & Relieve RLS

The air compression calf massager has 3 massage modes and 2 heating levels, offers sequential compression massage in complex patterns that stimulates hands kneading and squeezing massage, bring you a relaxing and all-round massage at home. It's also helpful for people who have legs swelling, tension, varicose veins and restless leg syndrome, to reduce pain and soreness.

Please consult the doctor before use for :

Using pacemaker or other medical devices which are susceptible to electrical interference;

Being pregnant or at puerperium;

Adjustable Size & Removable Inner Cloth Cover

Sizes of the calf massager with heat are adjustable via Velcros. It also has a pair of removable and washable cover, you can easily take them off for washing, keep them clean after long-term use or use by different people use.
Package Includes
2x Leg Massager Wraps
1x Handheld Controller
1x Adapter AC 100~240V / DC 12V/2A
1x User Manual
1x Quick Start Guide
1x Portable Storage Bag

Know More About FIT KING Air Compression Leg Massager with Heat FT-017A
Q1:What's the heating temperature?
A: There are 2 heating levels, the low heating level is up to 112℉/45℃, and the high heating level is up to 131℉/55℃. You can turn the heating function off as needed.
Q2: Will it too hot for me?
A: Firstly, the leg massager is cleared by FDA, the heating levels are safe and reliable. For the first time, we suggest you use the low level ,and if feel it too hot, you can turn off the heat function or take off the wraps immediately, then try it later. You will adapt to the higher temperature after some uses.
Q3:How many massage modes and intensity levels?
A: There are 3 massage modes & 3 intensity levels;
Q4: Why does it shut down after 20 minutes?
A: The best use time is 20 minutes each time, 1~2 times a day. So there is a 20 minutes timer, users can restart it for longer time if needed at any time.
Q5: Can I use it in other countries?
A: Yes, the voltage of the adapter is AC100~240V DC12V2A, you can use it in any country.