>> Whether young people work in the office, athletes finish training, or the elderly stay at home, our legs and feet always feel very tired even painful. This air compression leg massager with HEAT FUNCTION can safely and easily relax your leg muscles, relieve fatigue and pain, and improve blood circulation everyday.
>> It also is helpful for cold legs, varicose veins and restless leg syndrome, to reduce pain and soreness.
​>> Additionally, it helps fast recovery for people who finish a workout/training, gym, triathlon, cycling, biking, dancing, climbing and Yoga.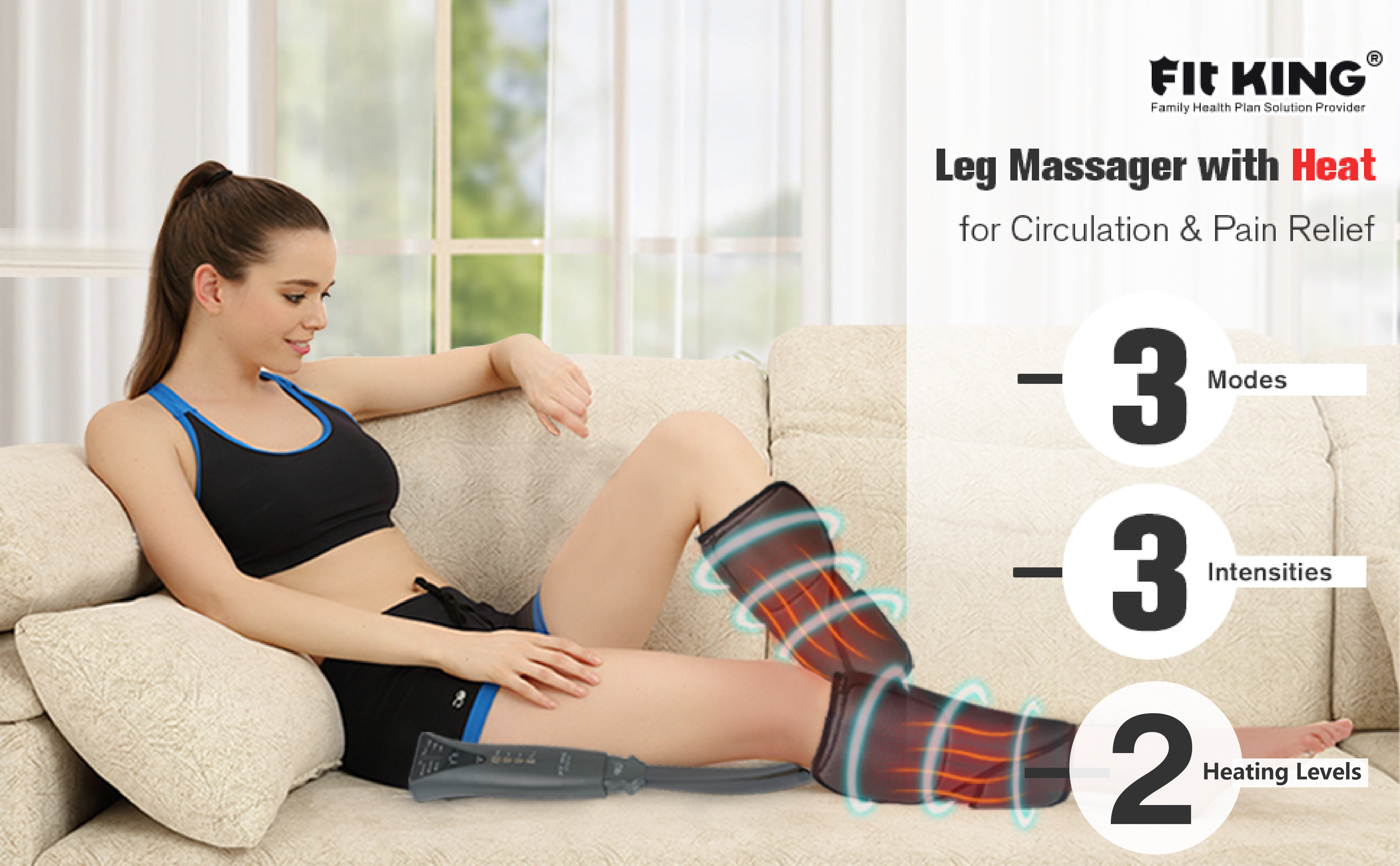 Featured Functions:
1. 3 Air compression massage modes and 3 intensities with different massage techniques selectable, relax your leg muscles, and helpful for restless leg syndrome, varicose veins​, swollen legs. ;
2. 2 Levels of heating function can be pretty effective to warm up your legs, relieve leg pain and improve circulation;
3. 20 Minutes automatically shut-off functions, very useful for the elderly;
4. Adjustable size, suitable for your whole family use;
5. Portable design with a free storage mesh bag, take it at home, in the office or travel easily;
(2 IN 1) LEG MASSAGER WITH HEAT
Portable Leg Massager for Relaxation
Whether young people work in the office, athletes finish training or the elderly stay at home, this air compression leg massager can easily and quickly relax your leg muscles, to relieve fatigue and pain every day.
Effective Heating Function for Pain Relief
Many people always feel legs sore and painful after long hours standing or sitting work, or exposure to air conditioners or cold environments. This heating function will be very helpful. 2 heat settings available.
Sequential Compression Massage for Circulation
There are 3 massage modes with different techniques, it's helpful for people who have poor circulation.
PORTABLE DESIGN
You can take it easily via the storage bag or put it into your suitcase, you and your family can freely use it at home, in the office or on travel.
REMOVABLE & WASHABLE
The inner layer cover is detachable and washable, you can easily keep it clean after long-term use or use by different people use.
Package Includes:
2 x Leg Massage Wraps
1 x Handheld Controller
1 x Power Adapter (AC100~240V / DC 12V1A)
1 x Quick-Start Guide
1 x Portable Storage Bag
1 x User Manual