Most of us spend the bulk of our days in front of a desk or monitor. And this easily leads to leg soreness, fatigue, swelling, and other leg pain issues. FIT KING air compression leg massager with heat can safely and easily relax your leg muscles, relieve fatigue and pain, and improve blood circulation everyday.
Continuous use can effectively help with varicose veins, restless leg syndrome, cramps, and other lower leg issues.
It boosts better circulation means it can also help with recovery after workout/training, gym, triathlon, cycling, biking, dancing, climbing, and Yoga.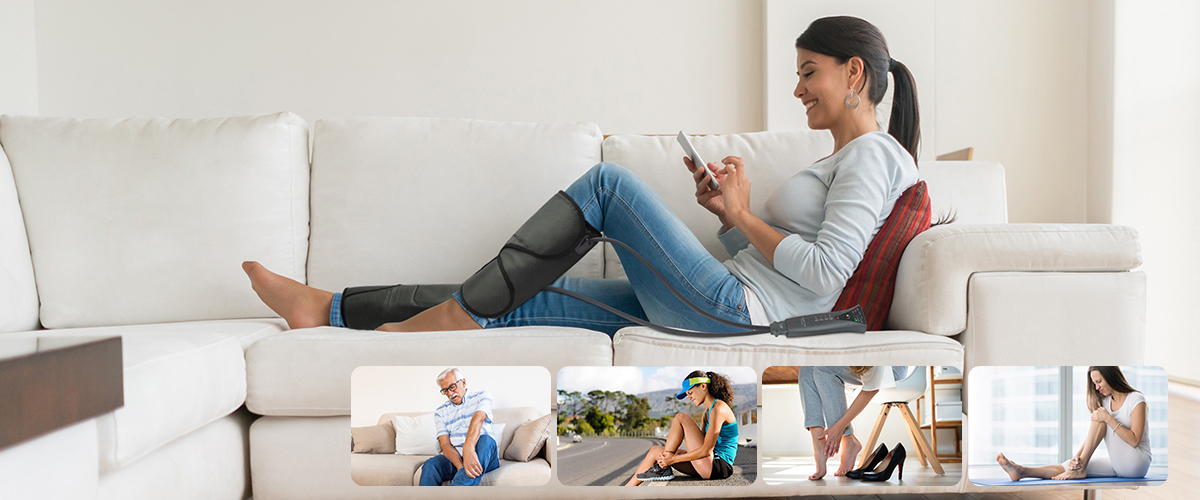 Sequential Compression Therapy
Each leg wrap has 2 chambers, totally 2x2 airbags inside, by inflating and deflating these airbags, they're able to simulate a pressure effect in patterns close to the ones performed by masseurs and physical therapists, bringing you deeper massage to relax your leg muscles, relieve fatigue and pain.
Infrared Heating Therapy
Upgraded with a feature of infrared heating, deliver soothing and stable heating for your massage, pretty effective to warm up your legs and promote circulation, relieving edema swelling, providing further relaxation and a better experience.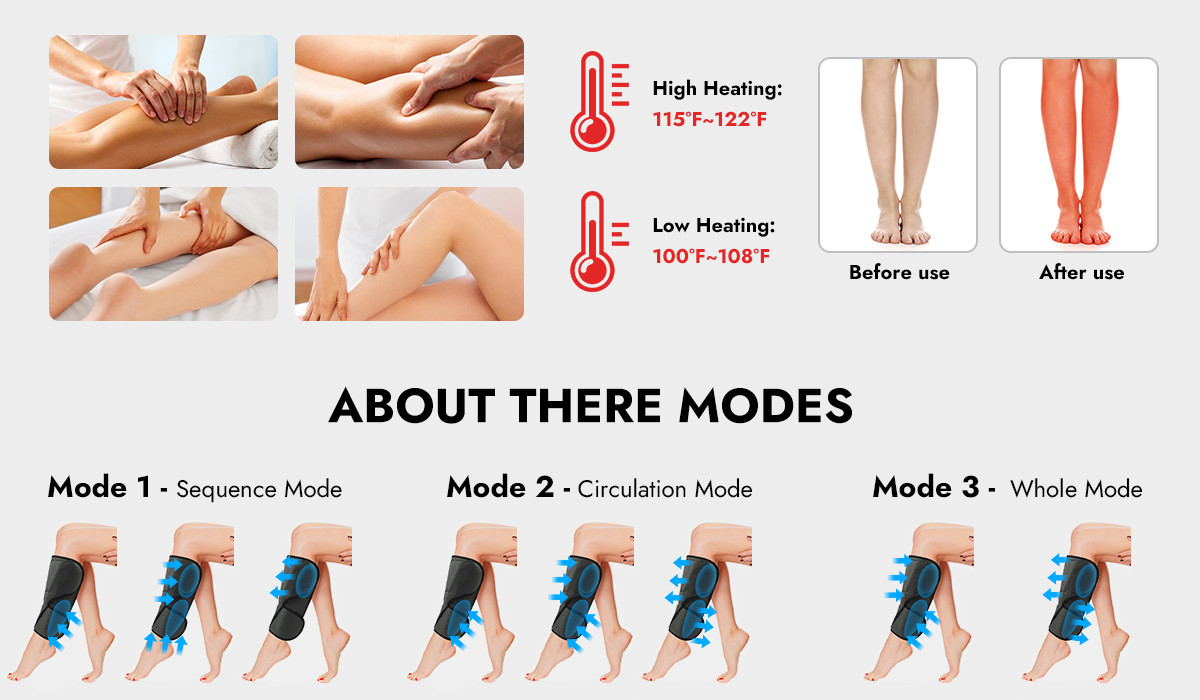 Multiple Settings
Different people have different massage needs, don't worry, this massager features 3 Compression Modes, 3 Pressure Intensities, and 2 Heating Levels, which can offer various massages to meet your personalized requirements.
Tips:
1. The heat is optional, you can turn it on /off anytime during the treatment.
2. Please allow 2~5 mins for heating up.
Easy & Safe to Use
It comes with a handheld controller, which also is the air pump, easy to change the message settings. And this massager features a function of automatically shutting off after 20 minutes, don't need to worry about forgetting to turn it off, avoid over massaged or overheated.
Tips: 20 mins a session is tested to get the best effect of the massage, if you feel like you should use it for a longer time, you can restart a new session.
Adjustable Wrap Size
The wrap can be fully opened and it's with velcro closures, which means that the wrap size is adjustable to fit most of the leg sizes, and you can easily make it looser or tighter to find the right fit and feel.
Adjustable velcros make it versatile, you can apply it on your arms or feet, and the inner layer is detachable for washing, which helps to keep it clean between uses.
Lightweight & Portable
It arrives with a portable storage bag and it's light-weighted, you can easy to carry it around and use it at home, in-office or in the hotel when you travel.

Relieve Fatigue & Pain
You may feel fatigued after a long day of work, or your legs get pain or swelling due to long time sitting or standing. It's important to give yourself 20 mins to relax, this massager is a great way to end a long and busy day, quickly soothing the pain, bringing you a good mood and good health.
Improve Circulation
As growing older, you may suffer more on your leg and may get cold feet/leg, RLS, varicose veins, swollen leg, etc. Most of these are due to poor circulation. This leg massager not only with air compression but also comes with a heating function, which is more effective to keep blood flowing and prevent getting blood clots from sitting and not moving for long, helps a lot especially for middle-aged and elderly people.
Accelerate Recovery
It is true that exercise provides lasting physical and psychological benefits, but it also creates traumas or microtears in your soft tissue, specifically your muscles. Exercise-related wastes can lead to soreness and pain. This massager will help with all these problems, multiple settings to choose for different pain levels, help to drain excessive lactic acid, reduce muscle soreness and accelerate the recovery and improve performance.
Package Includes
2x Leg Massager Wraps
1x Handheld Controller
1x Adapter AC 100~240V / DC 12V/2A
1x User Manual
1x Quick Start Guide
1x Portable Storage Bag