Feet and legs are likely to get tired in daily life, most people suffer from cold feet, swelling feet, RLS etc. , and you may need to find a good way to relieve or keep feet and legs back to a healthier status. Sometimes you massage your leg by your hands which is laborious, sometimes you may pay a massage therapist for treatment which costs money, or you may need to visit hospital frequently which is expensive as well as time-consuming. FITKING air compression leg massager with heat will be a best solution, save your time and money!
FIT KING leg massager is combined with air compression and heat therapy, which will provide soft and comfortable massage experience. Short time use our leg massager will reduce feet and leg swelling and ease pain, Consistent use will help to improve circulation, release tight muscles, relieve stress, eliminate muscle spasms and, overall, bring you fully relaxation and promote good health.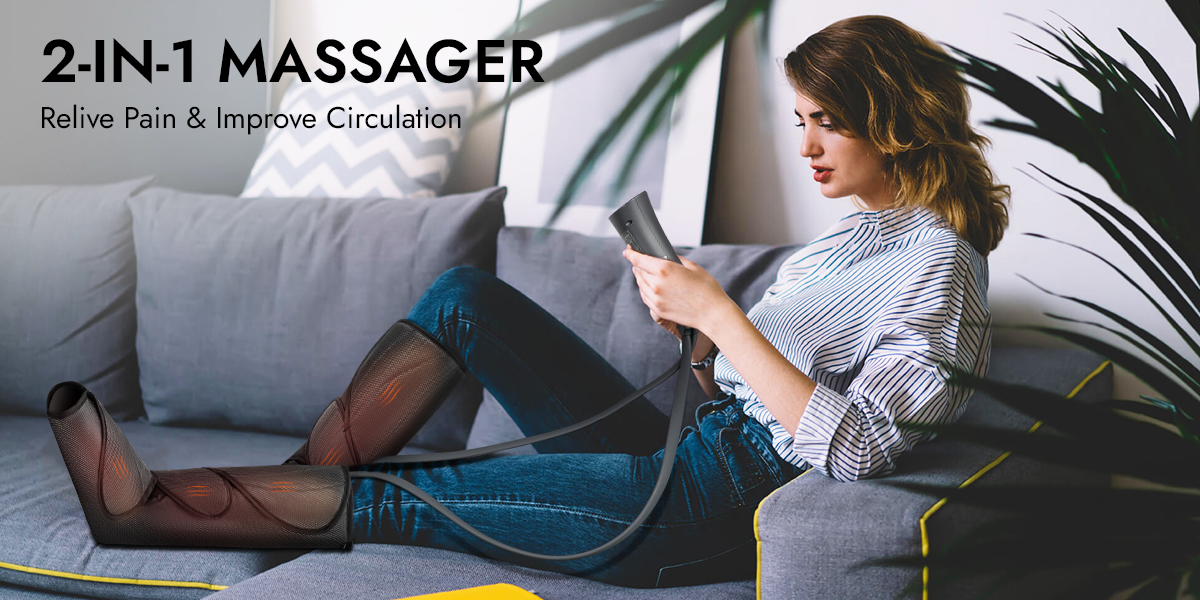 Sequential Compression Massage
Comes with 2+2 embedded airbags, pumps air by the controller to achieve compression, thus to squeeze and massage your feet and legs. Air compression provide you a soft and comfortable massage, help to release tight muscles and stress, eliminate muscle spasms, effectively help with swelling and pain in feet and legs from knee down.
Multiple Settings of Mode and Intensity
3 massage modes available and each mode can set with 3 different air pressure intensities, allows you to apply a completely customizable massage. Minimum intensity helps for daily feet and legs care and muscle relaxation, Medium helps to relieve muscle stiffness, soreness and pain, Maximum is helpful with recovery after intense physical training or exercise.
Upgraded with Heating Therapy
What makes this product even more enticing is its optional heating functionality, which provides soothing heat to comfort your feet and calves. This heating function, along with the compression massage, aids in improving circulation and leading to an extreme level of relaxation as your muscles recover. 2 heating levels available and the heat can be turn on/off anytime per need.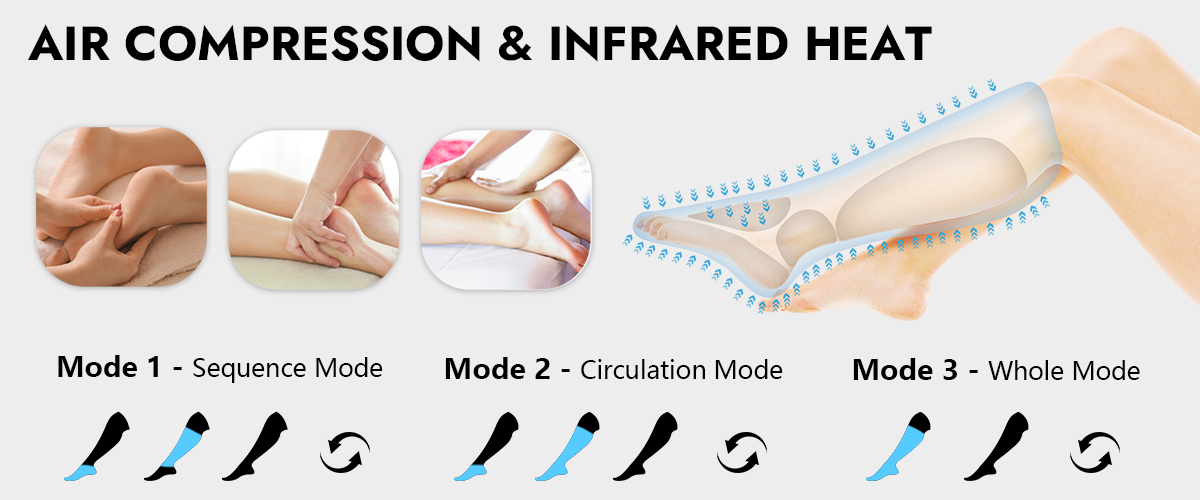 Adjustable Velcros & Free Extenders
Don't worry about whether the boots will fit if you have small or large leg sizes, wild adjustable range of velcros plus 2 free extenders allow it to fit leg size up to 28 inches.
Easy to Use & Quiet Operation
FITKING leg massager is easy to set up, and you can control it easily with the handheld controller, modes, intensities and heat functions has it's own indicator which is very intuitive to use. A quick start guide is included along with the clear specific instruction helps for further reference.
The motor works in low noise, quiet enough not to distracting you from working, reading or watching TV, so you are free to use it at home or in the office.
20 mins auto shut-off
The leg massage can use with confidence when you feel tired, 20 minutes is tested to better relieve the fatigue, avoid over heat and over massage. And it features of a 20 minutes timer, which means it will shutoff automatically after 20 minutes of operation, very helpful for the elderly, also help to avoid over massage.
Breathable & Durable Material
High-quality soft sewn fabric material enhances comfort. And the inner layer is removable and washable, easy to keep it clean between uses.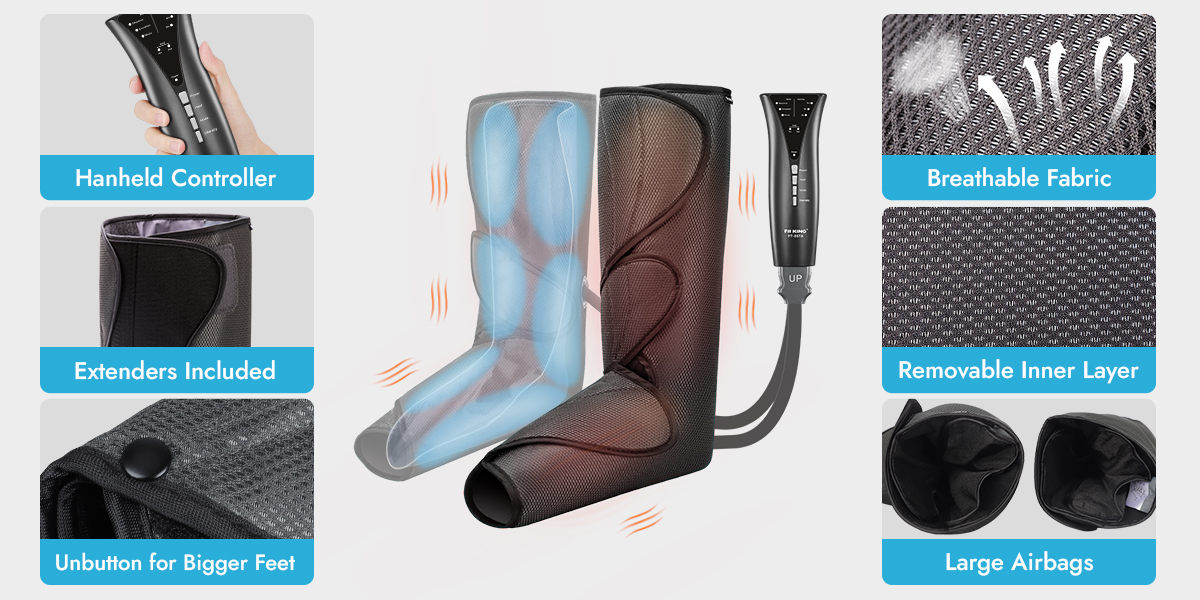 The Benefits of Using FIT KING Foot & Leg Massager with Heat
Relieve Stress and Pain
Air compression leg massager help with who have troubles with feet and legs, such as joint ache , feet swelling, leg edema... a soothing massaage will help to relive stress and pain, put an ease to your mind, help for people who need to stand for a long time, who have sedentary job or who travel a lot.
Intense Training / Exercise Recovery
Lots of people likes to hiking, climbing, dancing or have a workout on their free time, leg massager with sequential compression to relieve muscle stiffness and soreness, speed up recovery and get your energy back faster. Effectively help athlete for intense training recovery.
Improve Blood Circulation
This leg massager helps to relax muscles and improve circulation, people who lack of exercise, who suffers from cold feet, RLS,arthritis will benefit a lot. Use it before bed will help with better sleep. Daily use will bring you better health, a nice device to have around the house for daily feet and leg health care.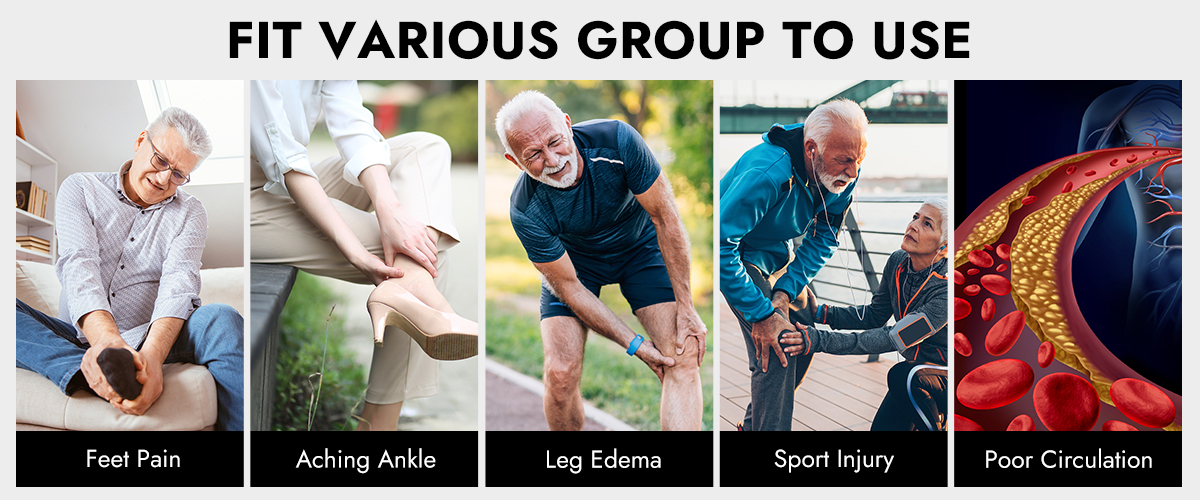 ​
Specifications:
Rated Voltage: AC100V~240V/ DC12V 3A
Rated Power: 36 W