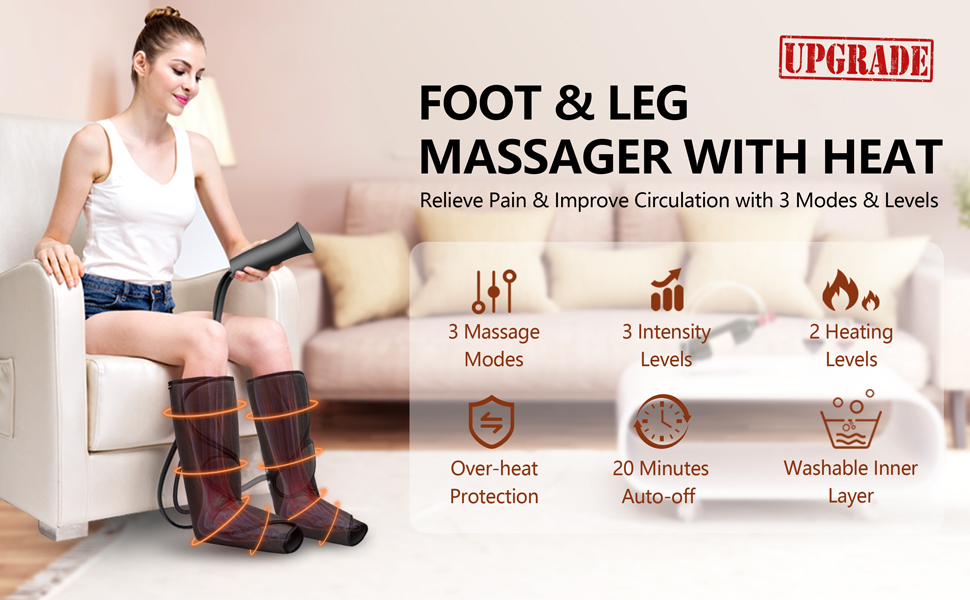 Our Feet and legs are likely to get tired in daily life, most people suffer from cold feet or legs, swelling and RLS, we may need to find a good way to relieve or keep feet and legs back to a healthier status.
FIT KING leg and foot massager with heat has 3 massage modes and levels with different massage techniques, as well as 2 heating options, offer you a customized massage experience.
It can reduce feet and leg swelling and ease the pain for daily use, and help to improve circulation, release tight muscles, relieve stress, eliminate muscle spasms.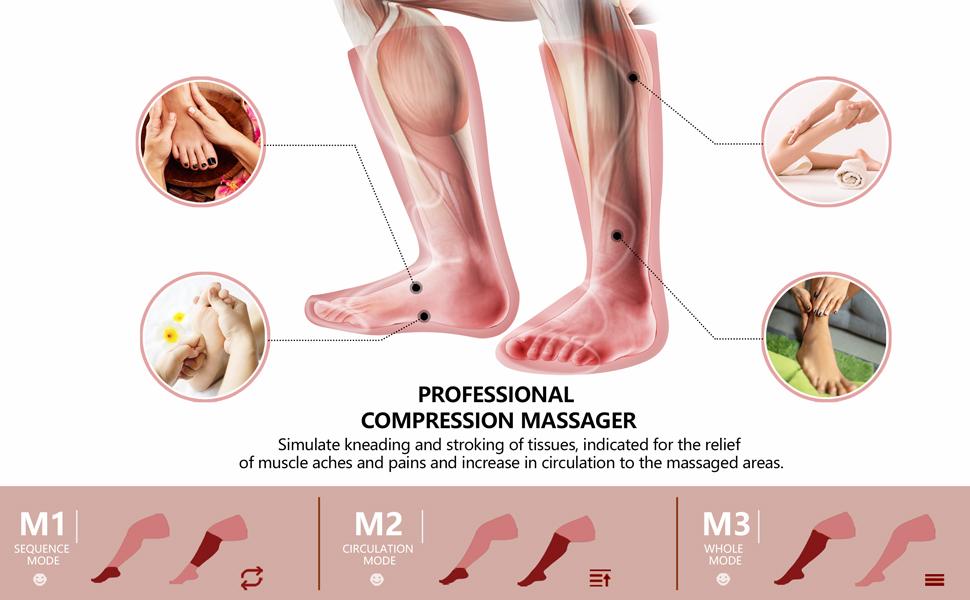 Featured Functions:
1.Foot and leg sequential compression massage combined with heating function
2.3 massage modes with multiple massage techniques.
4.Heating areas cover from foot to calf,2 heating levels and turn on/off anytime.
5.Larger and adjustable size with 2 free size extensions for different calves size up to 28.5 inches.
6.Handheld controller, easy to hold and operate.
7.Removable and washable inner layer, easy to keep clean.
8.Portable design with a portable storage bag, easily take it at home, office or travel;
​


RELAX YOUR LEG & FOOT
This leg massager with heat helps to relax your leg and foot muscles. You can take it to the office or put it in your suitcase to travel with you. Enjoy a 20-minute professional massage for quick recovery
RELIEVE FATIGUE & PAIN
This air compression leg and foot massager simulates kneading and stroking of tissues, can massage from foot to leg, helps with those who have troubles with feet and legs, such as joint ache, feet swelling, leg edema.
IMPROVE BODY CIRCULATION
This leg and foot massager has 3 sequential compression massage modes and 2 heating options, very helpful for people who have poor circulation, suffer from RLS, cramps or cold feet.
WASHABLE INNER LAYER
This leg massager comes with a pair of removable and washable inner layers. You can easily clean and install them again. It can be used freely in the office or by the whole family.
20 MINUTES TIMER
For very tired or elderly users, it's easy to fall asleep to enjoy such a good massage experience. The leg & foot massager will be auto-off after 20 minutes, which is the best time to use each time.
PORTABLE CARRYING BAG
Whether on a business trip or traveling, our feet and legs always feel sore. This leg and foot massager comes with a portable storage bag, which can be easily placed in the suitcase to accompany your journey.
Package Includes:


2x Leg Massage Wraps




2x Size Extenders




1x Handheld Controller




1x Power Adapter/DC 12V 3A




1x User Manual




1x Quick Start Guide




1x Portable Storage Bag

Specifications:

Rated Voltage: AC100V~240V/ DC12V 3A

Rated Power: 36 W