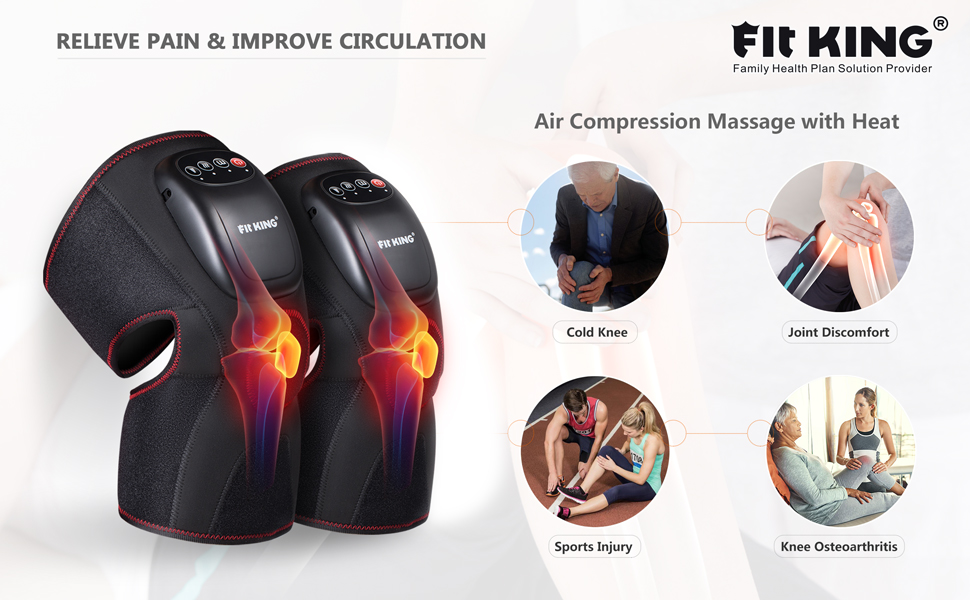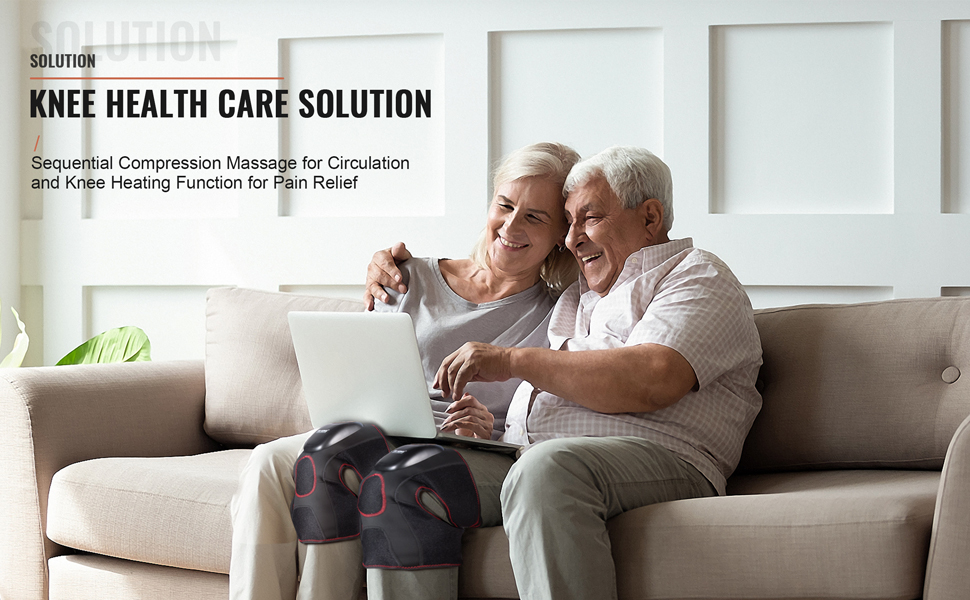 FIT KING Knee Massager with Air Compression Massage & Heat Functions for Knee Pain and Circulation FT-032K
Featured Functions:
* Knee heating function, 2 levels available;
* Air compression massage function works around knees, 3 massage modes & levels with different massage techniques;
* Size adjustable for whole family use;
* Helps relieve knee pain and soreness, aid in knee injury or surgery recovery;
* CAN BE USED FOR ONE KNEE OR BOTH KNEES
Specifications:
- Input Voltage: AC100~240V;
- Output Voltage: DC12V 2A
NOTE: This item is powered by the adapter, with no battery inside.
Please consult the doctor before use for :
* Using pacemaker or other medical devices which are susceptible to electrical interference;
* Being pregnant or at puerperium;
WHY CHOOSE FIT KING KNEE MASSAGER
EFFICIENT HEATING MASSAGE
This heated knee brace wrap massager has 2 larger heating areas, your knees can be quickly warmed up, to relieve pain and soreness. 2 heating levels are available, or close it individually.
SEQUENTIAL COMPRESSION MASSAGE
This knee massager has 2+2 air compression airbags to massage your upper calves and lower thighs around your knee areas. 3 professional massage modes and levels are available.
ONE SIZE FITS MOST
The size of the knee massager is adjustable via Velcros, which means all your family can use it, providing massage
KNEE PAIN
Knee sore and pain will get more obvious with age, this knee massager can relieve knee pain and improve the circulation in the knee area.
KNEE COLD
When working in an air-conditioned office every day, many women feel cold or even pain in their knees. This heated knee massager is easy to carry and can warm your knees at any time.
KNEE INJURY
In sports and training, the knee is easily injured. This knee massager combines air compression massage and heating function, which can better relieve pain and faster recovery.
KNEE PROTECTION
In winter or cold environments for outdoor activities or work, knees are easily affected by low temperatures. This knee massager brace wraps can be used to protect and warm up the knee area.
Package Includes:
2x Knee Massagers
1x Power Adapter
1x User Manual
1x Portable Storage Bag