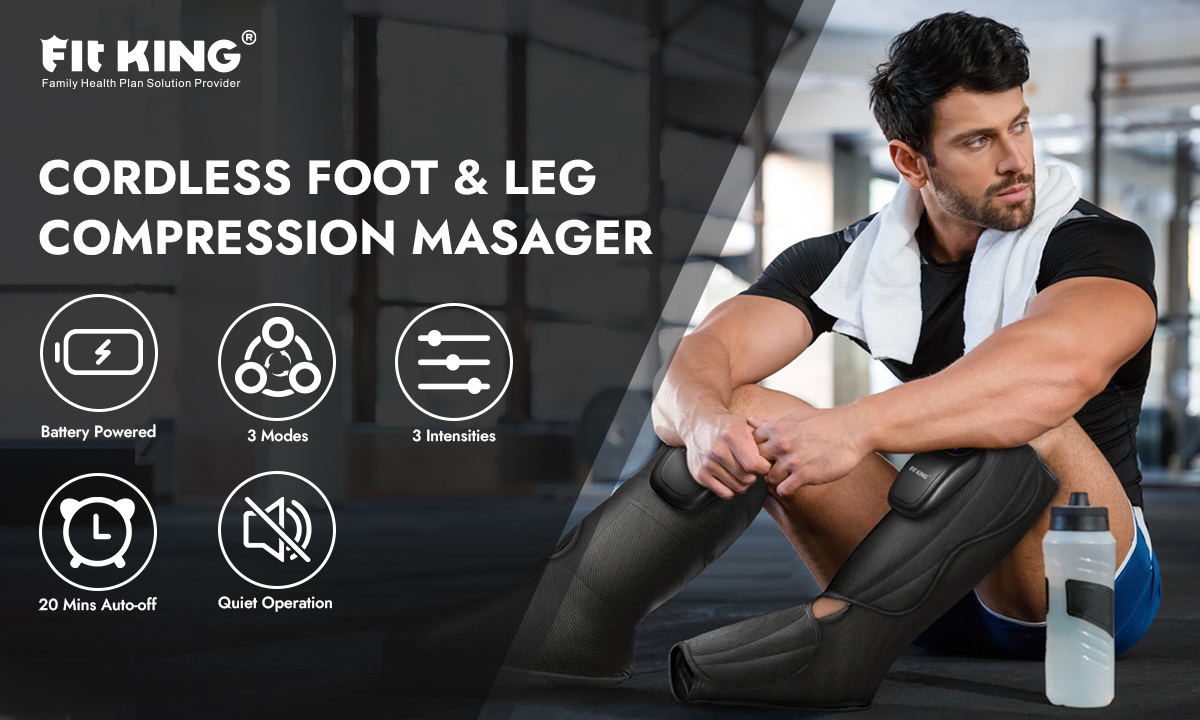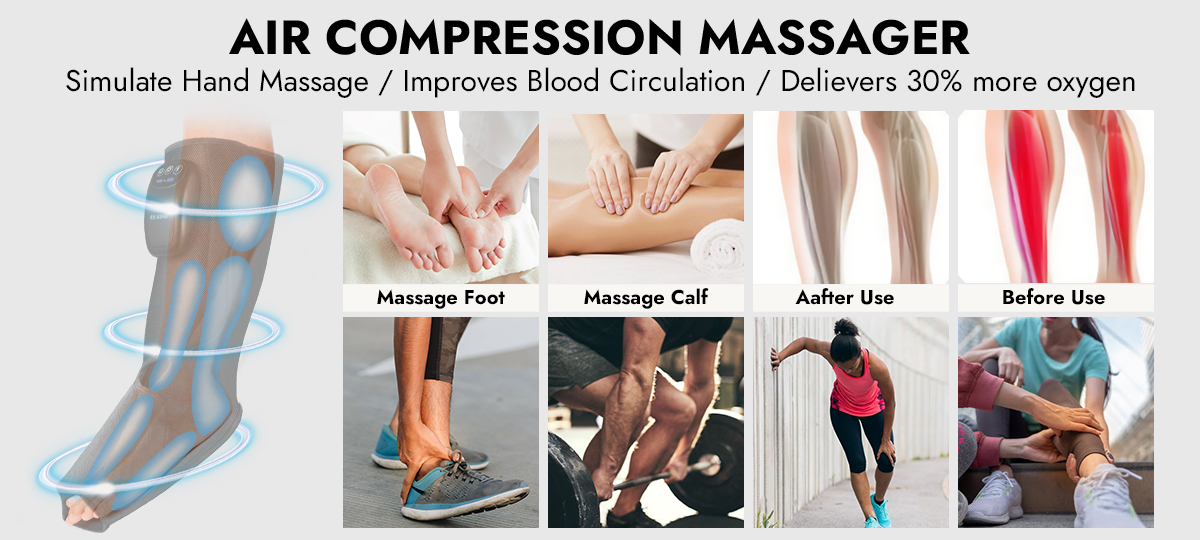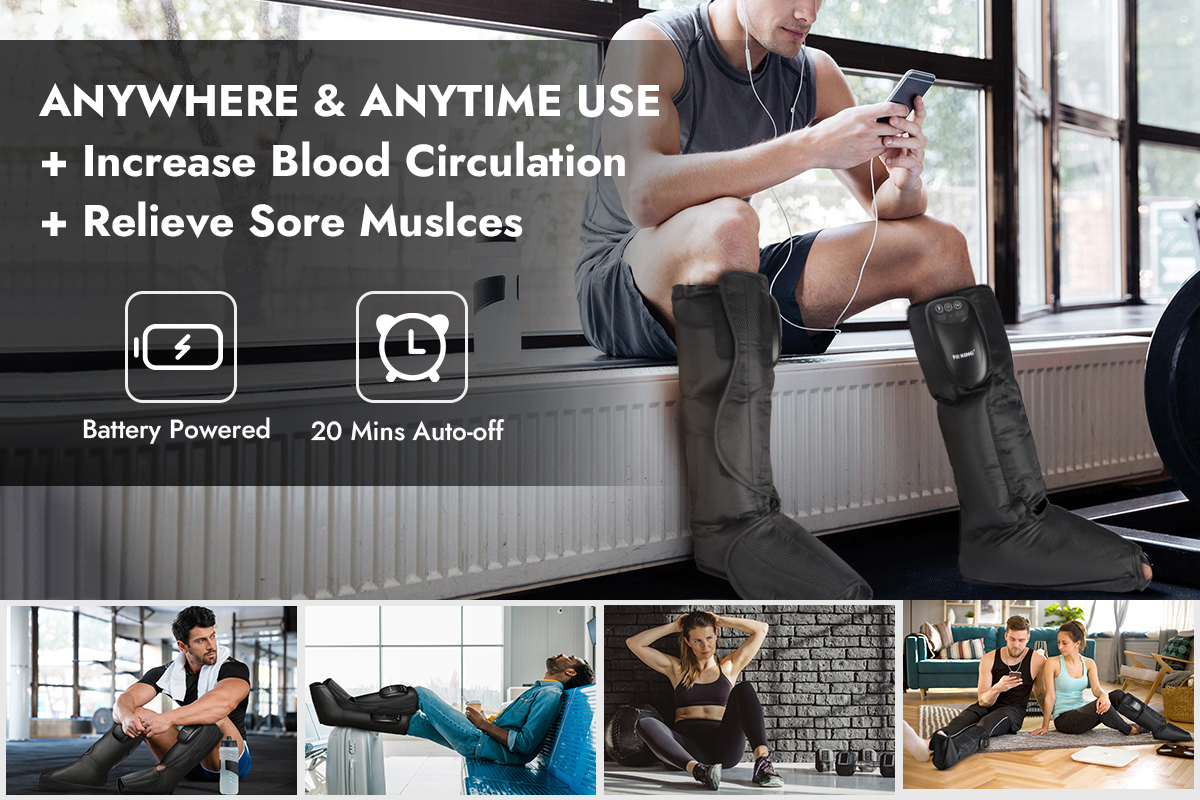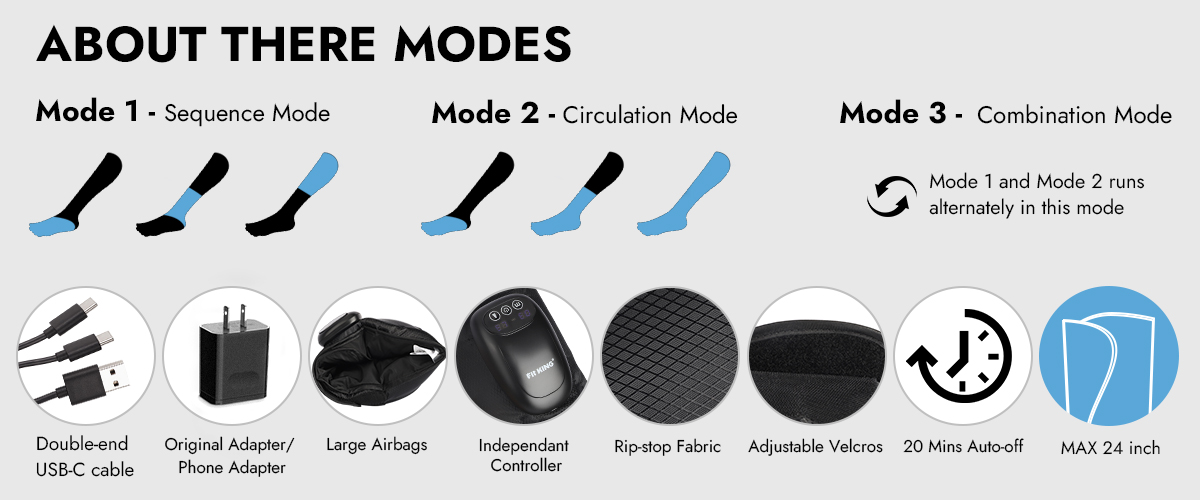 Unload fatigue in a simple way!
FIT KING cordless and rechargeable air compression leg massager FT-059A is with 3 modes and 3 intensities, helps to accelerate lactic acid accumulation and metabolism after exercise, relieve fatigue and soreness after a long day of work, relax at home and promote circulation, make up for lack of exercise and improve sleep quality.
It helps a lot for athletes and regular gym-goers to fast the recovery in between training/workouts, also helpful for leg issues like swelling, RLS, varicose veins, etc. The built-in battery allows you to take it along and use it at home, gym, or travel.
Exercise provides lasting physical and psychological benefits, but it also creates traumas or microtears in your soft tissue, specifically your muscles. This can lead to soreness and pain. FIT KING cordless compression massager can help to alleviate the pain and accelerate muscle recovery, it is not only time-efficient (typically treatment is 20 minutes a session) but also extremely effective.
It Employs Sequential Compression to Improve Circulation
This leg massager embedded with airbags, the air moves in a certain pattern, squeeze and release to provide sequential compression to achieve a soft and deep massage, it encourages movement of blood through tissue, and allows 30% more oxygen and nutrients to be delivered to leg muscles, reduce swelling and reduce secondary tissue damage.
It Speeds up Recovery and Improves Performance
The increased oxygen to the working muscles helps the body get rid of lactic acid as well as other metabolic wastes. The result is not only improved performance but also the ability to maintain a higher level of performance for a longer duration. Moreover, the presence of more oxygen in the blood minimizes the impacts of DOMS and speeds up the muscle repairing process.
It Relieves Fatigue & Pain.
This leg massager not only benefit athletes and regular gym-goers, but it can also help common people as well, especially if you are long time standing / sitting/walking/driving, or suffer from cramps, RLS, edema, this massager can stimulate muscle movement, bring you a quick relief, remove fatigue and pain, consistent use will help to keep your legs healthy.
The Features of this Leg Massager
Multiple Settings
This massager is with 3 massage mode and 3 intensities, can perform a strong massage after exercise for recovery, or a soothing massage by the end of a day for relaxation, just set with the combination that comfort you most, and enjoy it.
Cordless & Portable
This model is equipped with a rechargeable battery (each wrap has a built-in 2000mAh battery), which can support up to 4 hours of use, besides it lightweight and portable, a portable storage bag is included, allowing you to take it around and enjoy the massage anywhere anytime. A double-end USB-C charging cable is included, you can charge both wraps at the same time with the included adapter, your phone adapter, or any USB device.
Tips: This device can be used while charging, but to better protect the battery, we do not recommend doing this often.
Safe and Quiet Operation
Only 3 buttons to operate with, and there are LED digital displays for the modes and intensity levels, simple and easy to use. It provides a really quiet massage experience that you may easily fall asleep with it on, but it will auto shut off after 20 minutes so you don't have to worry about overdoing it, very safe to use. Surely you can restart a new session if needed.
Adjustable to Fit Various Leg Sizes
The leg massager wrap has 3 velcro closures, easy to put on and off, and allows to adjust the size to accommodate different leg sizes, max up to 24 inches. Get one for the whole family to use, or send it to your relatives or friends as a decent gift, live a healthier life together.