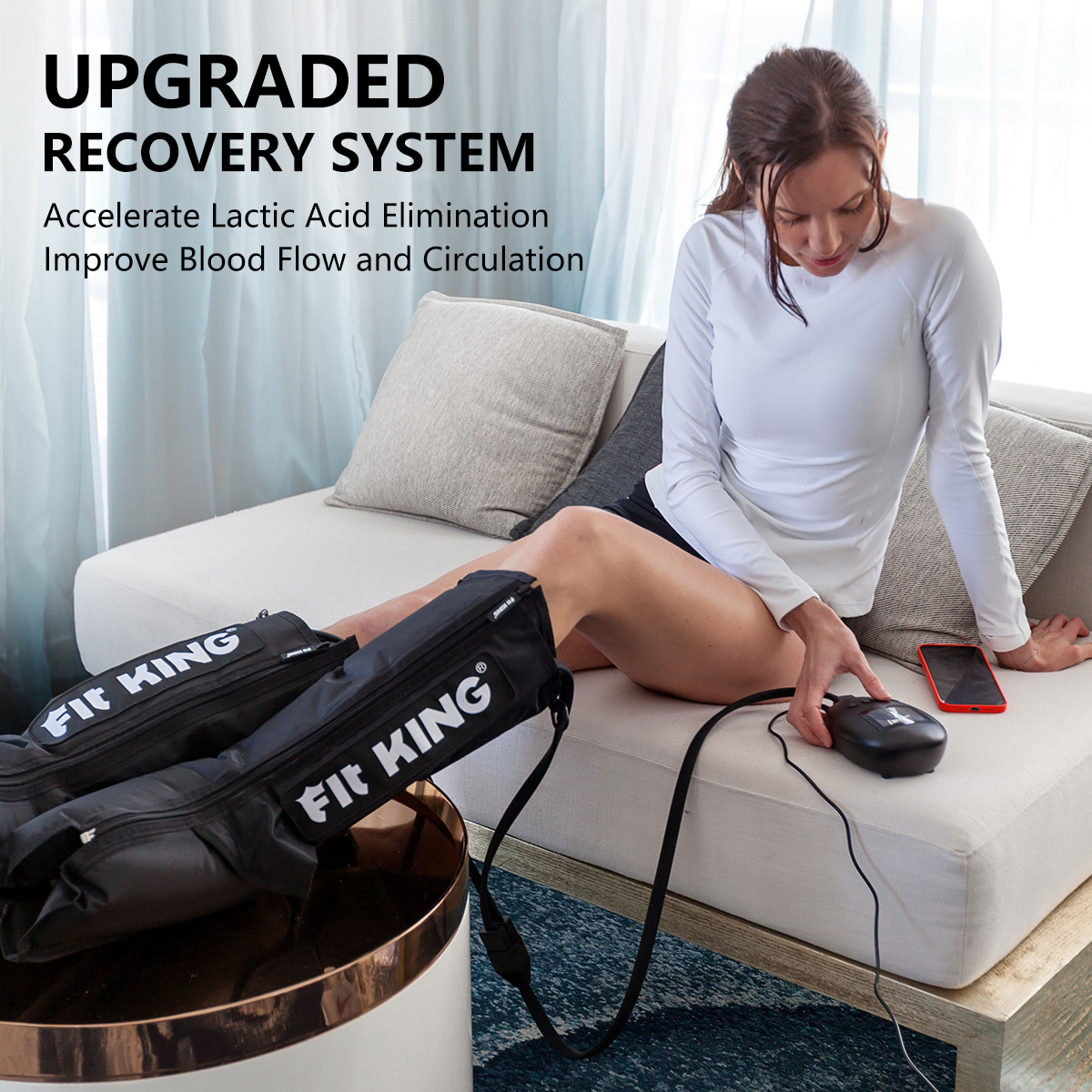 No matter what kind of training or workout you do, your muscles experience micro-tears that will lead to muscle soreness, edema, or swelling. It will go away naturally if you're recovering appropriately, but that will take quite a long time, and most of the time you can't wait that long. Here comes FIT KING compression recovery system, it provides dynamic pneumatic compression, stimulates muscle contraction and boosts blood flow, removes the lactic acid, and makes your muscles heal quicker.
Not saying that it's only for athletes or gym-goers. It can also help people who are on their feet a lot, walking or standing or people who suffer from lower leg issues, like RLS, cramps, edema, etc.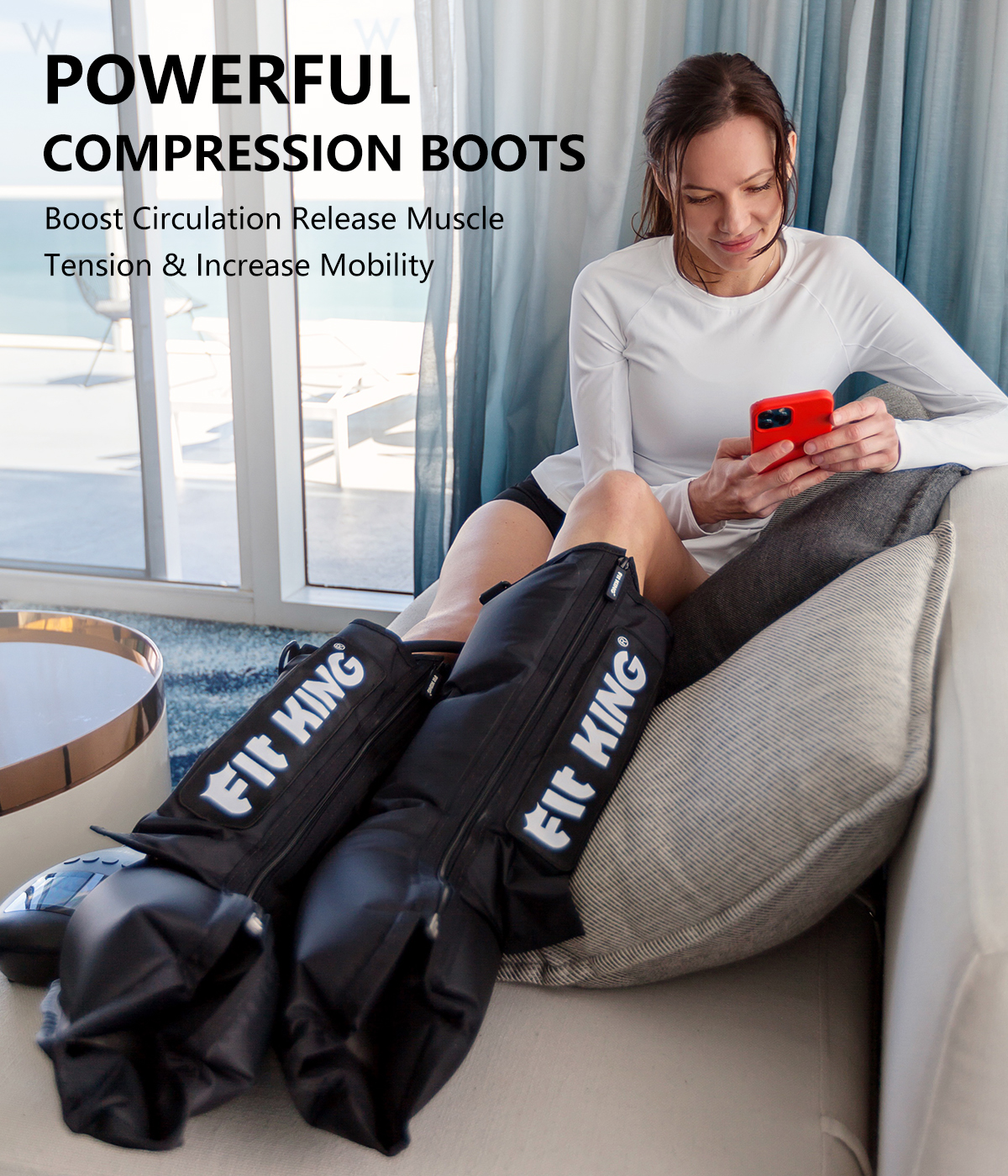 How Does It Work? - Pneumatic Compression Therapy
This is an air compression device, 3 air chambers(foot, lower calf, and upper calf) inflated and deflated with a sophisticated sequence, to simulate hand massage, 'squeeze and release' around the foot, ankle, and calf, encouraging leg muscle contraction and maximizes blood flow throughout the body, faster removes metabolic waste, thereby reducing soreness in muscles.
What FIT KING Leg Compression Recovery System Can HELP You?
Boost Blood Flow / Circulation
This massager offers dynamic pneumatic compression to the foot & calf, which is easy, convenient, safe, and painless, this compression technology improves blood circulation, promotes lymphatic fluid movement.
Fast Muscle Recovery & Improve Performance
Using it before workouts to unlock muscle stiffness and tightness, so that to reduce the risk of injury;
Using it after muscle stress from intense exercise or training, to accelerate the removal of metabolic waste and the delivery of fresh nutrients for faster muscle repair and gains from training, dramatically relieve muscle stiffness & soreness, effectively speeds up your recovery, and enhances your performance.
Relieve Pain & Swelling
This muscle recovery tool can also be used for home health care purposes, 20 ~30mins using will bring you pain relief. I can also help with welling caused by conditions such as DVT, diabetes, and lymphoma. Continuous use will promote better circulation.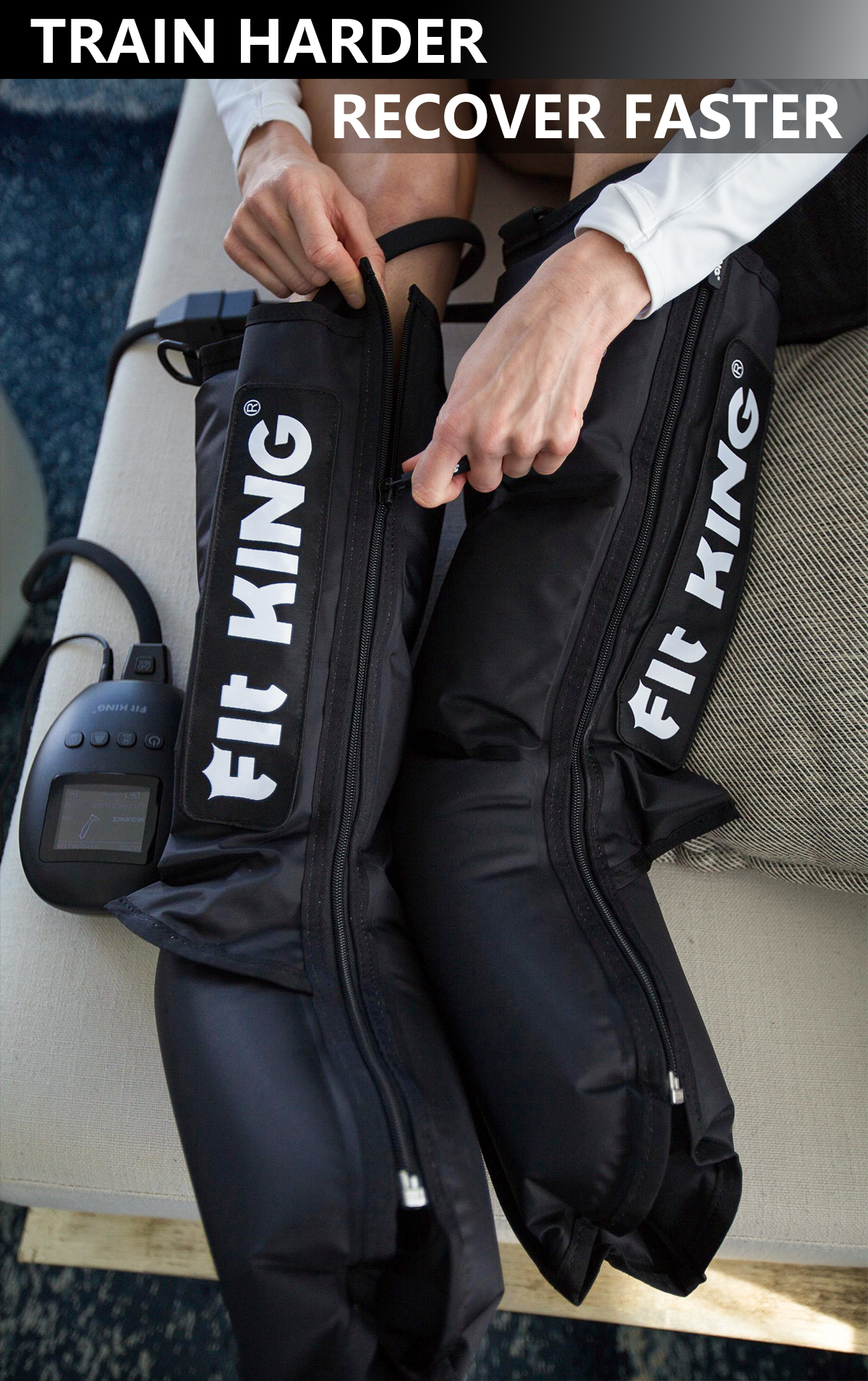 Our Advantages
Customizable Settings - This compression massager featured with 3 massage modes and 3 pressure intensities(max.140 mmHg), offers a personalized massage experience, and helps with different levels of pain relief. Either a real massage after hardcore training or unwind yourself after a long day of work, you will easily find the right combination that is optimal for your particular needs.
Adjustable Times - There are 3 options of treatment time available, 20 / 25 /30 minutes, it will shut off automatically when the time is up, but you can adjust the time anytime during the experience to achieve a longer and uninterrupted compression. Or you can free to restart a new session right after the auto-off.
Easy Set-up and Use - This system comes with an integrated control unit - The functional buttons are simple to read and there is an LCD display screen showing your current setting. Anyone can enjoy it effortlessly. An innovation pump is built inside, pumping air in a very low sound.
Fit Most Leg Sizes - The sleeves can accommodate most of the legs due to the pressure sensing technology. The large leg will take less time to reach the selected pressure, and the small leg will take longer.
Tips: Fit max calf size xx inches, please contact us for extra extenders if needed.
Innovation Material - The material of this product is upgraded with durable rip-stop fabric, it's not easy to get dirty, lightweight, and very easy to clean.
Tips: If dirty, please wipe the control unit, sleeves, and hoses with a damp, clean cloth.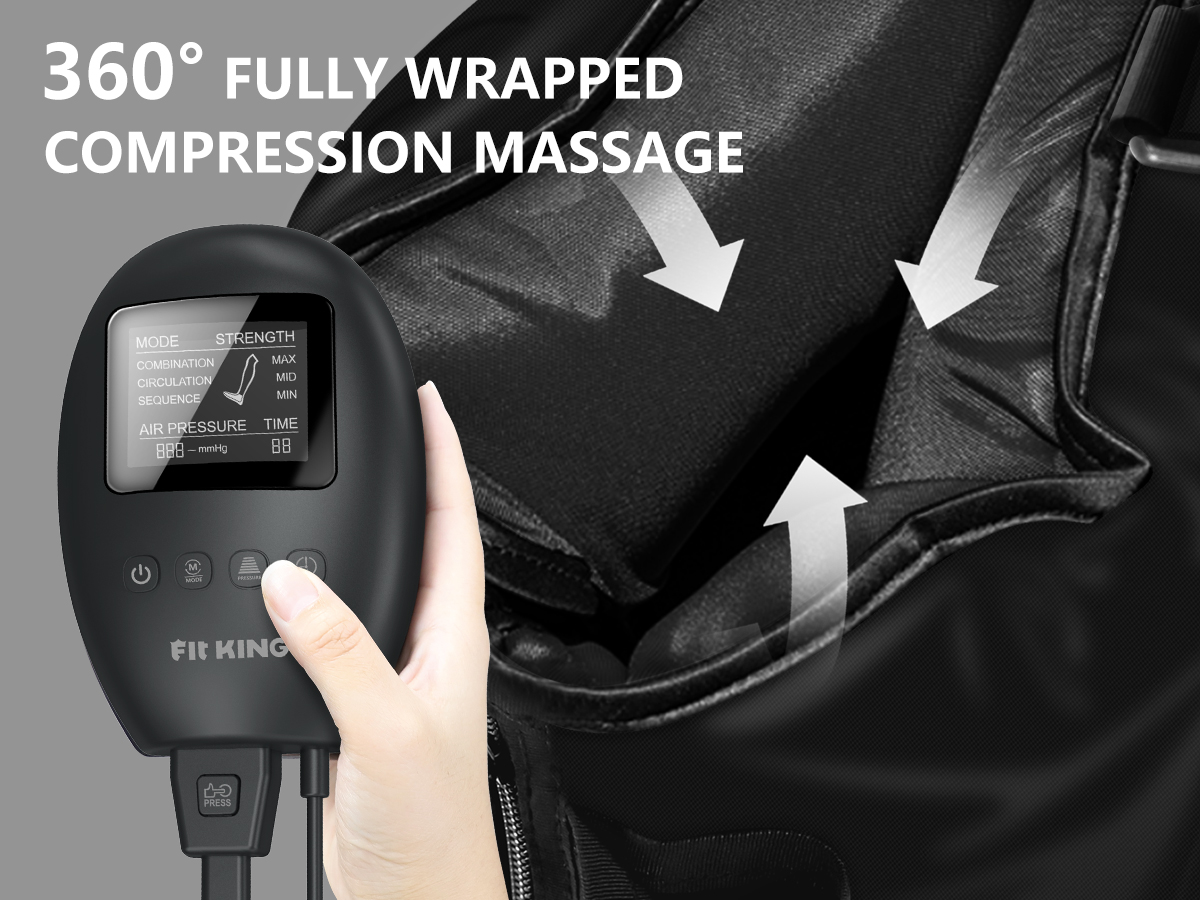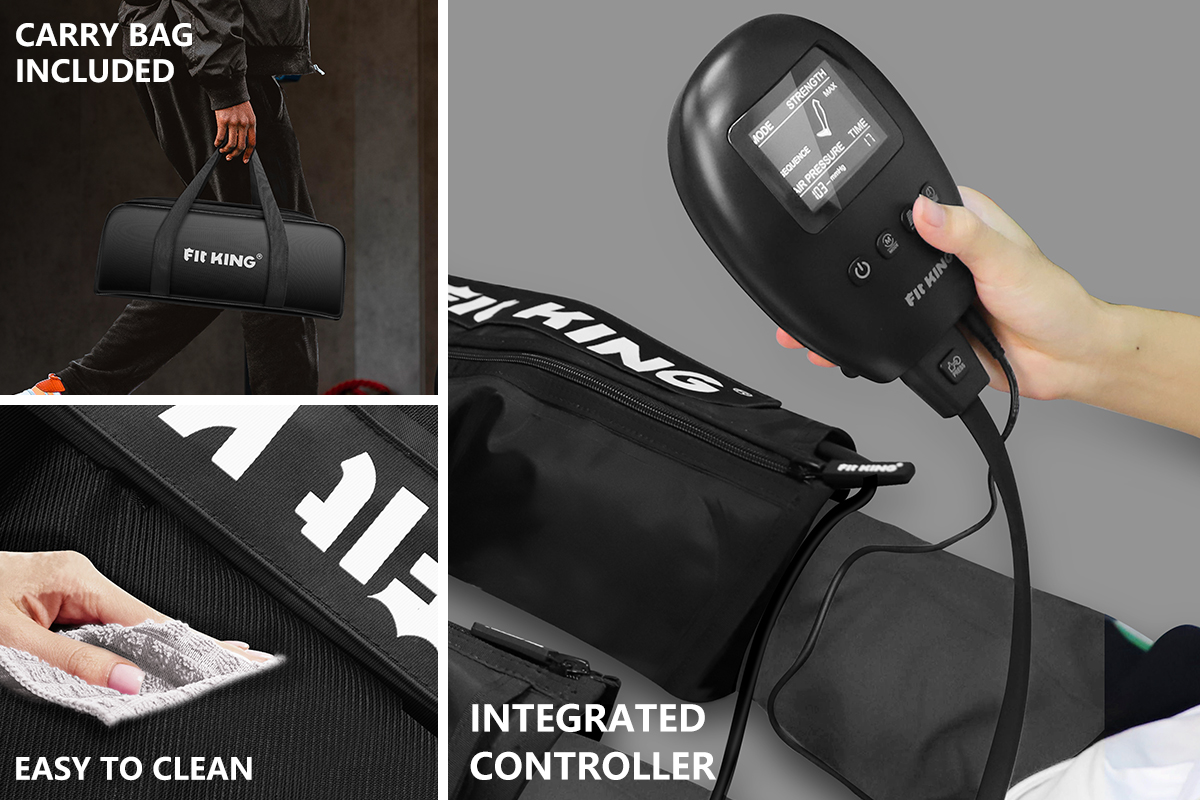 Specifications:
Adapter: AC 100~240V, DC 12V 1A
Rated Power: 12W
Maximum Pressure: 140mmHg
Screen: LCD Display
Controls: 4 x Buttons
Chambers/Boot: 3 Chambers
Gift Idea
Not only athletes and gym-goers can benefit from this compression recovery system, it can also provide pain relief for people who have lower leg issues like RLS, cramps, edema, or people who have tired and heavy legs.
And this compression tool comes in handy in a portable carrying bag. Easily fold and pack everything in it, convenient storage and portable carrying. Can be used at the home, gym, or even traveling. It would be a great gift for anyone you loved.