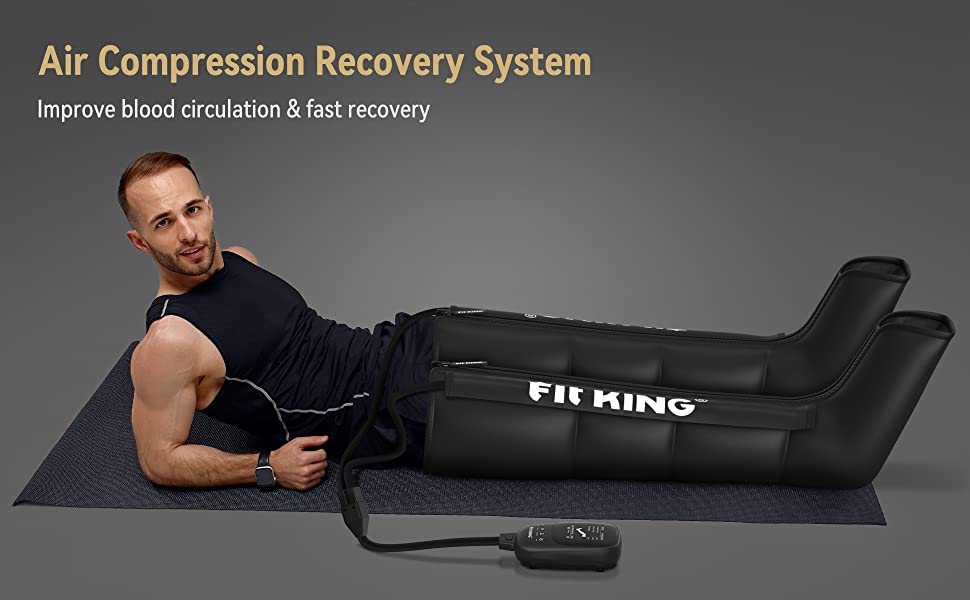 Fast Recovery & Enhance Performance
Whether you are athletes, sports enthusiasts, or gym goers, we often suffer muscle soreness and fatigue after exercise, and it takes a few days to get a full recovery. FIT KING full leg air compression boots can massage your full leg like a personal massage therapist, relieve muscle fatigue, improve blood circulation, help for fast recovery and enhance sports performance. It can meet people's different needs.
● For warm-up before exercise
● For fast recovery after exercise
● For office sedentary, decrease muscle fatigue
● Promote blood circulation, reduce pain & swelling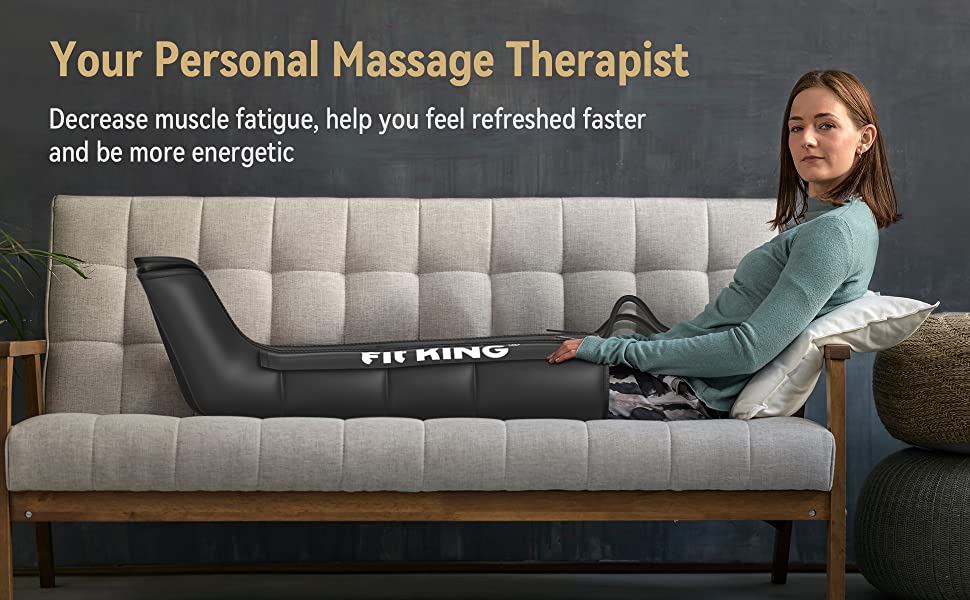 Upgraded Powerful Therapy
This compression device has 4 large airbag chambers that can 360° wrap your full leg. Inflating through 4 independent air channels provides dynamic pressure to your feet, calves, knees and thighs. Large-capacity air pump makes inflating and deflating faster and lower noise.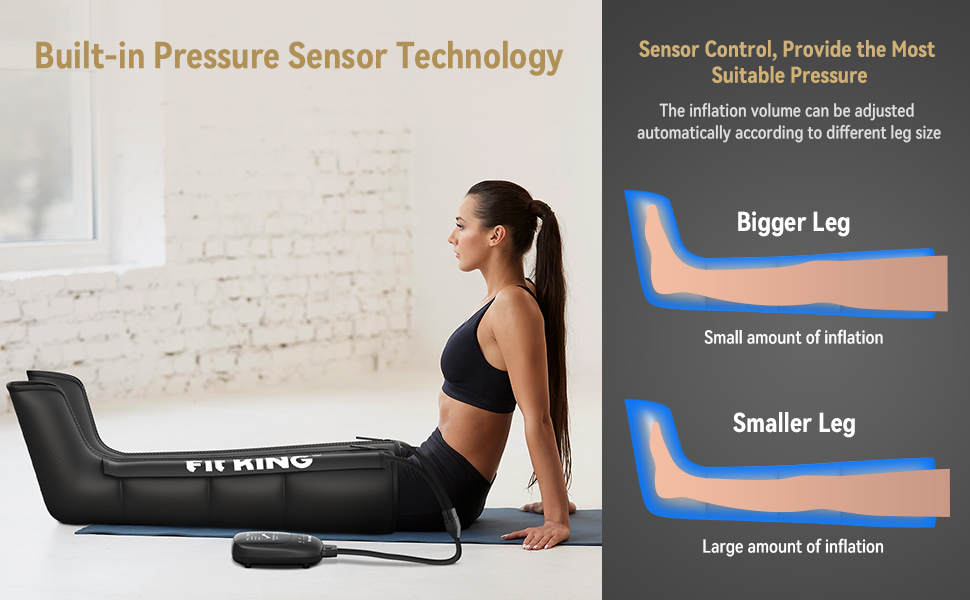 Intelligent pressure control
Fit King sensor system will precise control the pressure and adjust the inflation volume according to the different sizes of legs, which can provide you with the most suitable and safe air pressure. There are 8 pressure intensities and 3 optional times for selection, which can prevent the dangers of excessive contraction or excessive use.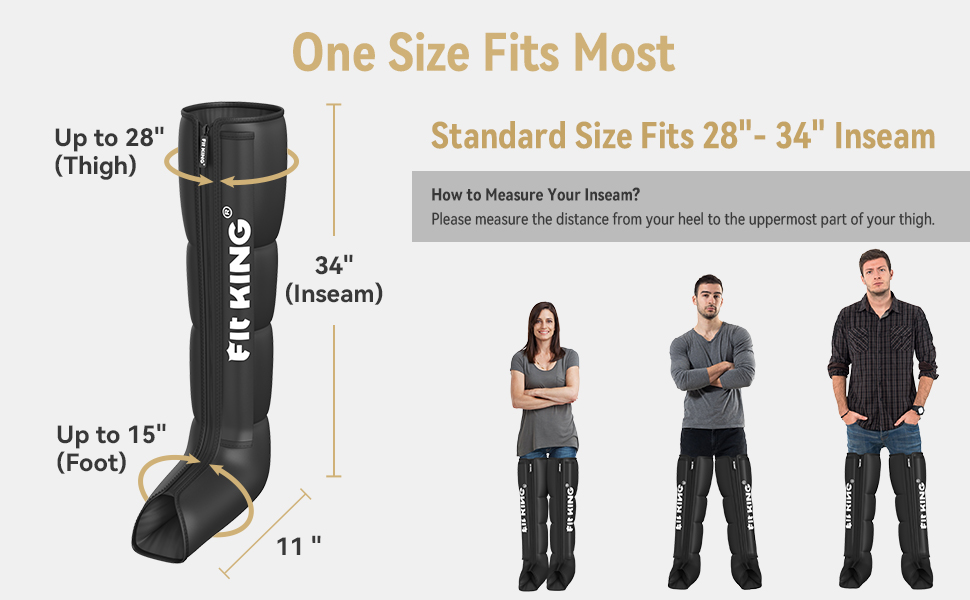 Standard Boot Size Fits Most
Our recovery boots are designed in a standard size according to most people's dimensions which fits 28"- 34" inseam. Please measure the distance from your heel to the uppermost part of your thigh to check if your inseam is more than 28".
Easy to Operation

Digital control unit with LCD for easy operation

Easy to Wear

Zipper design makes it easier to put on and take off

Easy to Clean

High-strength fabric is more durable and easy to clean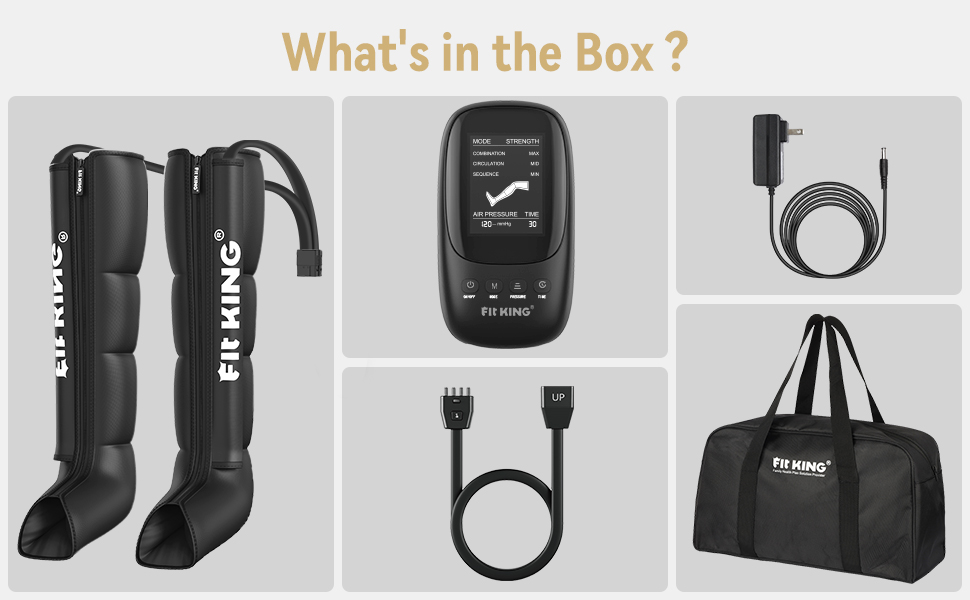 What's Included
Leg Sleeves x 2; Air Hose x 1; Control Unit x 1; Power Supply x1; User Manual x 1; Portable Storage Bag x1.