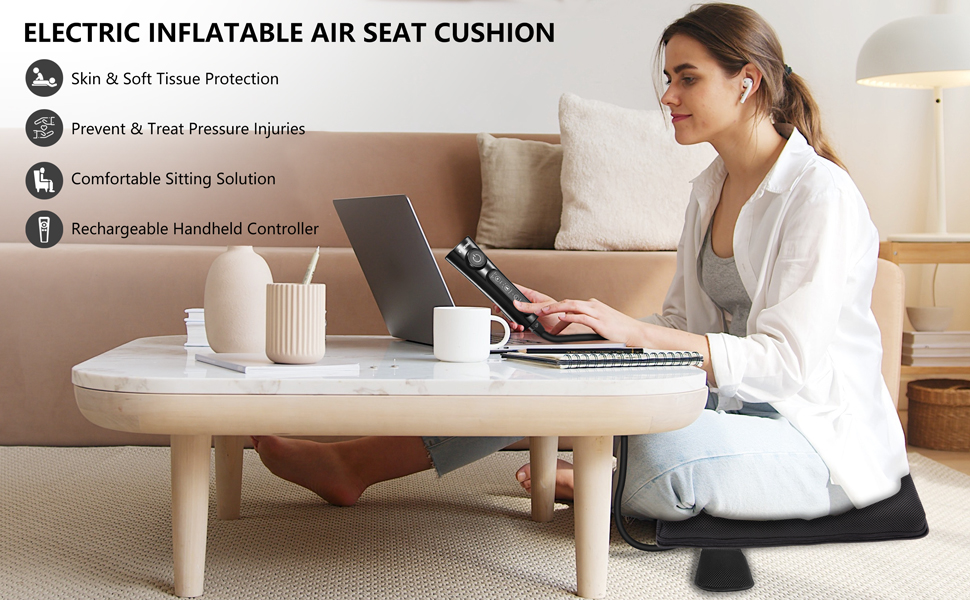 It's stressful and uncomfortable to keep sitting for a long time, easy to get numb, aching or even pressure sore, especially for those who keep the same sitting position that lack movements, such as sedentary workers and wheelchair users. Here comes FIT KING Inflatable air seat cushion, which provides a comfortable and effective relief sitting solution, helps to ensure skin integrity, gets a healthy and safe sitting experience.

Electric Pump Inflating
Comes with a handheld controller, users can inflate quickly with just one button, no need to stand up, no need to stand up, and no need to ask others for help.
Two Static Modes
There are 2 static modes: Whole Mode - all cells are inflated; Alternate Mode -half of the cells are inflated and kept in air for 2 minutes, then the other half will be inflated alternately.
Massage Mode
Driving for a long time will cause the body to feel very tired, and at risk for skin or soft tissue breakdown. They can pick up the rechargeable controller to make the journey more relaxing.


Non-slip Bottom
This high-end massage cushion is designed to fit most seats. Its bottom is full of anti-slip particles to prevent slipping, easy to keep it in place on any chair made of any material, safe to sit on and avoid adjusting from time to time.
Automatic Air Compensation
This inflatable massage cushion equipped with the pressure sensor will automatically inflate to reach the selected pressure if 25% of the air is loosing, and even if the controller is off, the cushion will stay aired up for hours.
Breathable & Durable Cover
This seat massage cushion is with a breathable fabric cover, prevent heat buildup and make you sit more comfortably. It can be connected and removed easily by unzipping, very convenient to wash and keep the cushion clean.
Pocket for Controller
If sitting for a long time makes you uncomfortable or too boring, you can enjoy a 20-minute massage at the touch of a button, feel like performing a massage to your hip, offer you a short break, increase blood flow and relieve fatigue.